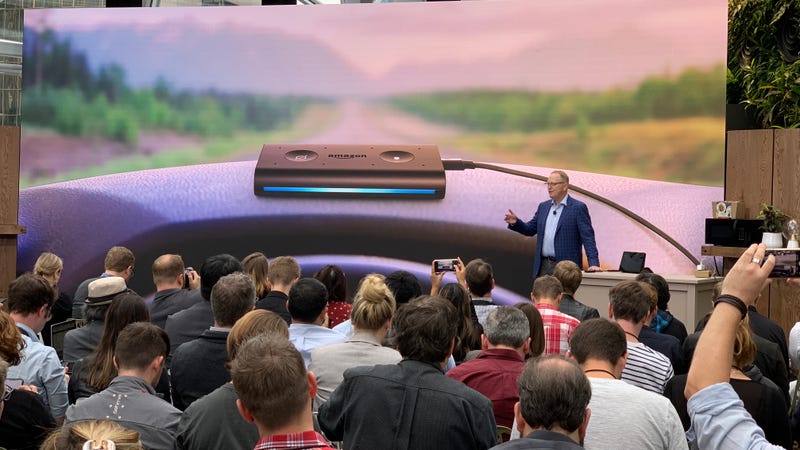 The battle to listen to you all the time lol
The digital assistant wars are in full swing, and with Google just recently notching the latest victory by finishing Q2 with the top-selling smart speaker in the world, Amazon is revamping its Alexa-powered roster in a very big way.
At the start of its presentation, Amazon's devices head David Limp set the tone by saying the company had around 70 new devices to talk about, and only an hour to do it. Limp then launched into talking about Amazon's recent upgrades to Alexa, which in the U.S. includes making Alexa both more opinionated and more approachable for children and adults.
Now, Alexa will know when to whisper a reply back, for those situations when you're trying not to disturb others, and starting today, Amazon is adding routines to the Echo Dot Kids Edition to help parents create custom Alexa commands for their children.
But the big reveal for Amazon are all the new Echo devices, headlined by an all-new Echo Dot. While the new Dot is retaining its affordable $50 price tag, it sports a new, rounded fabric-covered body with "louder and clearer" sound and both Bluetooth and line-out connectivity.
To help supplement the Dot, Amazon also created the even cheaper (and thinner) Echo Input, which lacks speakers and is instead meant to be plugged directly into existing home audio solutions similar to Google's Chromecast Audio. Not coincidentally, the Echo Input costs $35, the same as a Chromecast Audio.
And for those who want to augment their speaker setups with a little more thump, Amazon also announced the $130 Echo Sub, which can be used for multi-room audio and synced with a pair of standard Echoes to create your own 2.1 system.
Of course, the audio rabbit hole goes much deeper than just speakers and subs, so Amazon went and made the $200 Echo Link and $300 Echo Link Amp. Neither of these are meant to be standalone products and they don't include a microphone. Instead, they connect to other Echo speakers and include a dial to help control and fine tune your audio, or in the case of the Echo Link Amp, help boost your sound quality.
But we're still not done yet, because in an apparent move to better compete against the HomePod and the Google Home Max, Amazon also announced the $150 Echo Plus, which looks vaguely like a HomePod with a blue light ring up top and a built-in smart home hub inside.
On top of featuring better compatibility for smart home gadgets, the Echo Plus has what Amazon is calling Local Voice Control, which means that commands made to devices in your house no longer need to be sent to the cloud before making something happen.
But what about all your existing "dumb" gadgets, you say? Well, Amazon thinks it has a solution for that too with the new $25 Amazon Smart Plug, which plugs into a traditional outlet and lets you turn devices on and off simply by asking Alexa. And to make sure setting all of these devices up is as hassle-free as possible, Amazon is touting a simple setup process that lets you rename a device with your voice during your initial install. . .