Part II
Part I: George H.W. Bush's Grim Legacy in Haiti
After George Herbert Walker Bush died on Nov. 30 at age 94, the mainstream press favorably contrasted him to Donald Trump, portraying the former Republican president as "kinder" and "gentler," two watchwords from his inaugural speech.
But, Trump's signature aggressivity towards immigrants is epitomized through extra-territorial interception and imprisonment and separation of families, brutal policies which were, in fact, pioneered by Bush I during the Haitian refugee exodus following the Sep. 30, 1991 coup d'état in Haiti.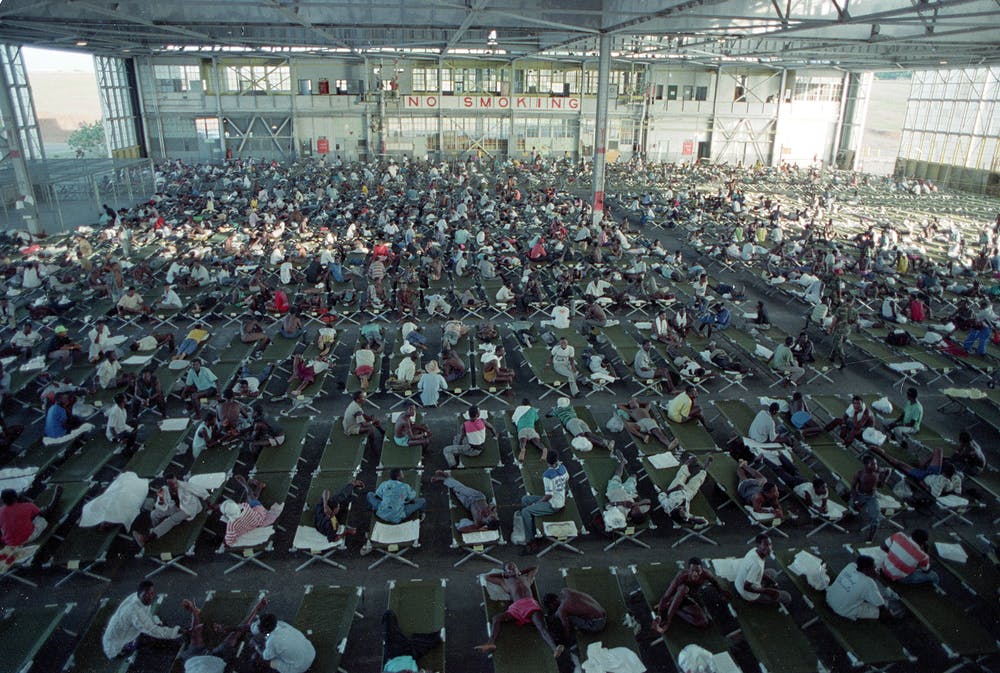 As we saw in this series' first article, George H.W. Bush's administration gave manifest and tacit support to dictator Prosper Avril (1988-1990) and to the first coup d'état against democratically-elected Pres. Jean-Bertrand Aristide.
As a result of that putsch, tens of thousands of Haitians took to the high seas in small boats, many fleeing for their lives. In the first year after the coup, the U.S. Coast Guard intercepted some 38,000 Haitians in international waters.
U.S. interdiction of Haitian refugees had begun in September 1981 under Pres. Ronald Reagan, for whom George H.W. Bush was vice-president. Under the rules laid out by Reagan's Executive Order 12324 titled "Interdiction of Illegal Aliens," Immigration and Naturalization Service (INS) agents on board U.S. Coast Guard cutters were supposed to interview and "identify candidates for asylum as political refugees under United States and international law," explains University of Miami law professor Irwin Stotzky in his new book Send Them Back, about the efforts of crusading lawyers (including himself) on behalf of Haitian refugees during the 1980s.
The screening process was laughable, with interviews which were not private and as short as five minutes, while the snatched-up "boat-people" were often hungry, thirsty, scared, and confused.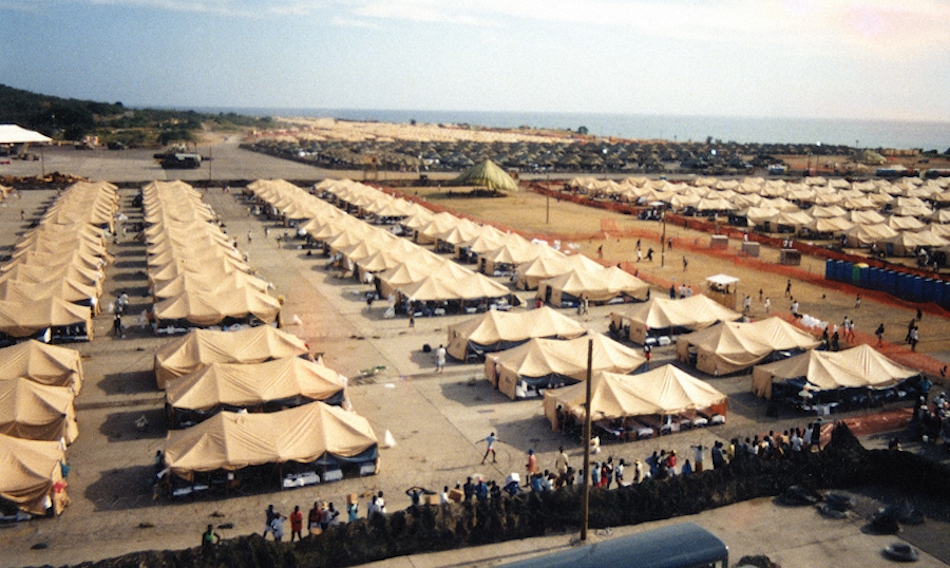 "As a result of these defective procedures, only 28 of the approximately 23,000 Haitians on vessels interdicted by the Coast Guard from the inception of the interdiction program in 1981 until mid-1991 were identified by INS officials as potential asylees," Stotzky writes.
During Aristide's eight months in office in 1991 (Feb to Sep), there was a net human influx back to Haiti, as thousands of joyful expatriate Haitians returned to their homeland to take part in a new democratic experiment after three decades of dictatorship.
But the 1991 military coup cruelly cut short that hope-filled period and provoked a new refugee wave which overwhelmed the U.S. Coast Guard ships stationed off Haiti's coast. As a result, the Coast Guard began transporting Haitians to the U.S. Naval base at Guantanamo Bay, Cuba, housing them in giant hangars and Camp McCalla, a makeshift city of hundreds of tents set up on Guantanamo's paved runways and loading docks. At its peak, there were over 12,500 Haitians detained there.
After eight months, the Bush I administration finally dropped all pretense of giving Haitians any due process and discarded the Reagan-era screening protocols, as imperfect as they were. "On May 24, 1992, claiming there were too many Haitians coming, Bush ordered the Coast Guard to intercept all Haitians fleeing in boats and immediately return them to Haiti, without interviews to determine if they were at risk of persecution or death," Stotzky explained to Haïti Liberté.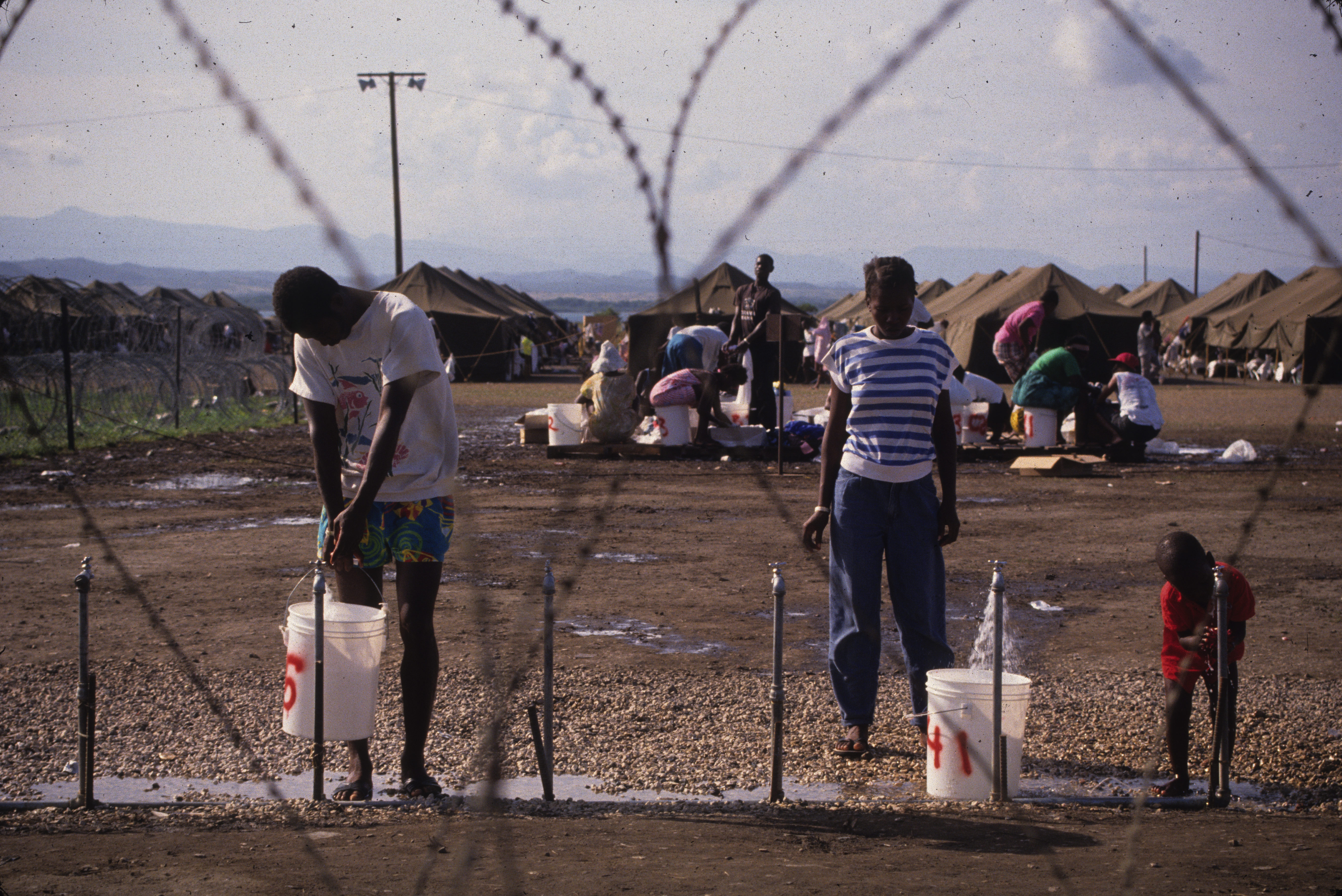 Beginning in 1991, "when the U.S. detained Haitian refugees indefinitely, it set a precedent," concluded Prof. A. Naomi Paik in a comprehensive article last June about Haitians at Guantanamo on the website The Conversation.
This was the beginning of Guantanamo being used as a prison, for which it would become even more famous in the early 2000s after it was used to hold, in legal limbo, prisoners swept up in George W. Bush's wars in Afghanistan and Iraq [. . .]
via How George H.W. Bush Made Guantanamo a Prison, Starting with Haitians