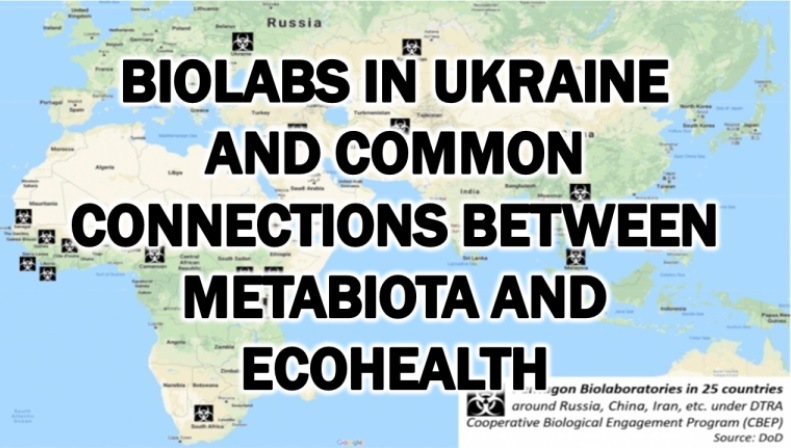 by Rhoda Wilson
The Exposé
Metabiota, the US company funded by US Department of Defence's Threat Reduction Agency ("DTRA") to operate biolabs in Ukraine, was founded by Nathan Wolfe who is linked to the Global Virome Project, EcoHealth, World Economic Forum and Jeffrey Epstein.
Wolfe, directly and/or through Metabiota and its sister non-profit Global Viral, is not only been funded by various branches of US Department of Defence but, is also funded by Hunter Biden's Rosemont Seneca and CIA venture capital company In-Q-Tel.  And this is merely scratching the surface of those backing the biolabs in Ukraine.
This is Part 3 of a three-part series.  Part 1 can be read HERE and Part 2 HERE.
In Part 1 we explained what products and services Metabiota sells, who their customers are and how badly they handled the Ebola outbreak in West Africa in 2014-2015.
In Part 2 we explored the common links between USAID, US Department of Defence, EcoHealth and Metabiota.  How EcoHealth is linked to the CIA, the Wuhan Institute of Virology and the development of the Covid spike protein bioweapon while Metabiota is linked to US Military biolabs in Ukraine often run by experts in biological weapons and biological terrorism.
Citing reasons entirely independent to the above, Dr. Masahiro Matsumura concluded in his article 'Ukraine as Biden's Sacrificed Pawn': "The current Russia-Ukraine war has been consequent on the globalist mismanagement of the US hegemonic decline in which President Biden has continually played a central role for more than a decade."
Callahan and Biden
Currently the lead investor in Metabiota is Pilot Growth Management. Pilot Growth's co-founder and CEO is Neil Callahan who also sits on Metabiota's Board of Advisors.
Callahan is also former Managing Director and co-founder of Rosemont Seneca Technology Partners ("RSTP").   His name appears many times on Hunter Biden's hard drive.  Hunter Biden being US President Joe Biden's son.
RSTP, Rosemont Seneca Partners and Rosemont Realty are offshoots of Rosemont Capital, an investment fund founded in 2009  by Hunter Biden and Christopher Heinz, John Kerry's stepson.  In 2015 24 investors financed Metabiota to the tune of $30 million with RSTP being lead financial backer.  RSTP's website, www.rstp.com, no longer exists.
Hunter Biden's attorney told the Organised Crime and Corruption Reporting Project (OCCRP) in 2020 that Biden had divested himself from his holdings in RSTP before a controversial investment in mbloom in late 2015. However, emails reviewed by FOX Business showed that Hunter Biden was in regular communication with RSTP leaders and had investment interests in multiple RSTP funds in 2016 and 2017, despite his attorney claiming he "severed his relationship" with RSTP.
RSTP's financing of Metabiota was during the period, 2008 to 2017, when Black & Veatch and DTRA signed contracts for the construction and operation of biolabs in various countries. Under these contracts for biolabs in Georgia and Ukraine Metabiota, Black & Veatch's subcontractor, signed a $18.4 million federal contract.
During a 2016 meeting in Lviv, Ukraine, representatives of Black & Veatch and Metabiota discussed biological security, safety and surveillance with representatives of Ukraine, Poland and the United States.  It was amid these clandestine projects, in 2015, Google-funded Metabiota to the tune of $1 million and RSTP was Metabiota's lead financer.
In-Q-Tel
In 2017, Metabiota signed strategic agreements with Munich Reinsurance Company and In-Q-Tel, Inc. ("IQT"), the strategic investor that accelerates the development of technologies to support the US intelligence community. Created by the Central Intelligence Agency ("CIA") in 1999 as "the first government-sponsored venture capital firm," IQT has been controversial since its inception.
IQT, formerly Peleus and In-Q-It, is an American not-for-profit venture capital firm based in Arlington, Virginia. It invests in high-tech companies to keep the CIA, and other intelligence agencies, equipped with the latest in information technology in support of US intelligence capability.
Not many people may be aware of IQT which has backed some of Silicon Valley's most prevalent advents, influencing widely used Google apps and possibly even Facebook.
Google was spawned by the CIA, via Stanford University, and has carried out several contracts with the agency throughout its existence. In 2004, Google bought the company Keyhole, which had originally been funded by IQT.
Via https://healthimpactnews.com/2022/biolabs-in-ukraine-who-are-metabiotas-investors/