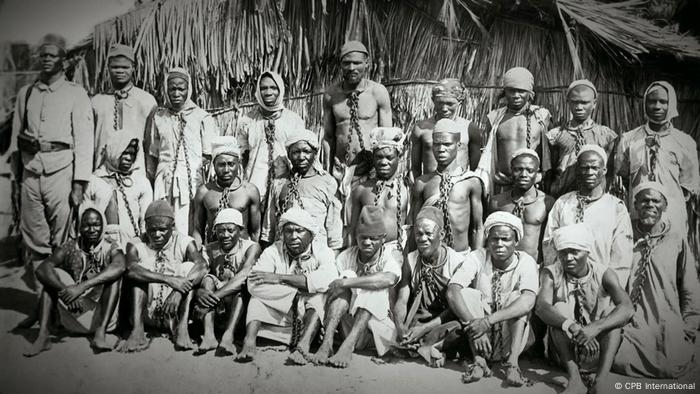 Slave Routes – A Short History of Human Trafficking
Part 2 For All the Gold in the World
DW (2020)
Film Review
In 1441, the Portuguese were the first Europeans to establish a foothold on the African continent. Portugal was still embroiled in the Crusades and thought an African military presence would confer an advantage in battling Muslim Arabs.*
The Portuguese intended to pay for their African military adventures with gold from Africa's Gold Coast. In the end, the triangular trade they set up exported slaves they exported to Sao Tome** sugar plantations. The sugar they exported from Sao Tome made Lisbon the richest city in Europe.
Within decades, the Flemish, German, Venetians and Genoese also established slave trading outposts in Africa. As Europeans began to expand south of the Equator, the came in contact with the kingdom of Kongo. As the Islamic Empire had no prior ties with Kongo, the king converted to Christianity and was the first in southern African to establish a major trading relationship with Europeans.
Fond of Portuguese luxuries, the Kongo aristocracy became the kingdom's first slave traders. They sold slaves to mine gold in Akan (north of Kongo), as well as to Sao Tome to grow sugar. As slaves were notoriously overworked (14+ hour days) and underfed, it was rare for them to survive more than 10-15 years. This meant they had to be continual replaced.
In 1595, after a series of armed slave uprisings in Sao Tome, the Portuguese abandoned the island's sugar plantations and began transporting African slaves to Brazil and the Caribbean.
---
*The Crusades didn't end until 1453, when Constantinople fell to Muslim invaders. In other words, the Europeans lost.
**Sao Tome is an island off the West African Coast
Film can be viewed on Enhance TV at https://www.enhancetv.com.au/video/slavery-routes-for-all-the-gold-in-the-world/52102