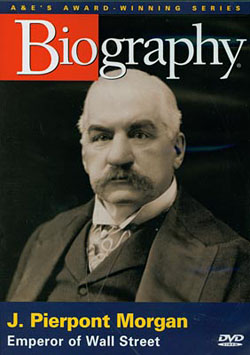 J P Morgan: Emperor of Wall Street
A&E (2005)
Film Review
This insipidly uncritical biography of the 19th century bankster, J P Morgan, relies mainly on reminiscences of his family and business associates.
Born in Connecticut in 1837, Morgan moved to Britain at 18, where his father worked in the merchant banking firm Peabody, Morgan & Co. A year later he returned to New York to join the US branch of Peabody, Morgan & Co.
The film conveniently neglects to mention he made his fortune during the Civil War, purchasing 5,000 rifles from an army arsenal at $3.50 apiece and reselling them to a field general for $22 each. Morgan evaded the Civil War draft by paying a substitute $300 to take his place (also not mentioned in the film).
In addition to his banking interests, between 1869 and 1883, Morgan systematically gained control of one-third of all US railroads. After his father's death in 1890, he used his father's fortune to acquire more corporations.
Following the 1893 depression, the US experienced a massive drain on its gold reserves and Morgan used an old Civil War statute to allow his and the Rothschilds' banks to sell gold to the US government (at a tidy profit).
In 1901, he purchased Carnegie Steel to form US Steel Corporation (the world's first billion dollar corporation). Following the purchase, he controlled roughly 70% of the country's steel production.
After notorious "trust-buster" Teddy Roosevelt assumed the presidency in the same year, his attorney general prosecuted Morgan's Northern Security Corporation (which ran his railroads) for violating the Sherman Anti-Trust Act. Morgan appealed, but the Supreme Court upheld the government order to break up the company.
During the 1907 panic, many US banks were again on the verge of collapse, when Roosevelt appropriated $35 million from the US Treasury to invest in New York banks to keep them afloat.
It would be the last time the federal government allowed a single banker (the filmmakers refer to Morgan as a "one-man central bank") to singlehandedly control the US monetary system. In 1913 banking and political leaders secretly conspired with President Woodrow Wilson to create the Federal Reserve.*
---
*Contrary to popular belief, the Federal Reserve is not owned and controlled by the government but by a consortium of private banks.
The film can be viewed free on Kanopy
https://pukeariki.kanopy.com/video/j-pierpont-morgan-emperor-wall-street
https://pukeariki.kanopy.com/video/j-pierpont-morgan-emperor-wall-street