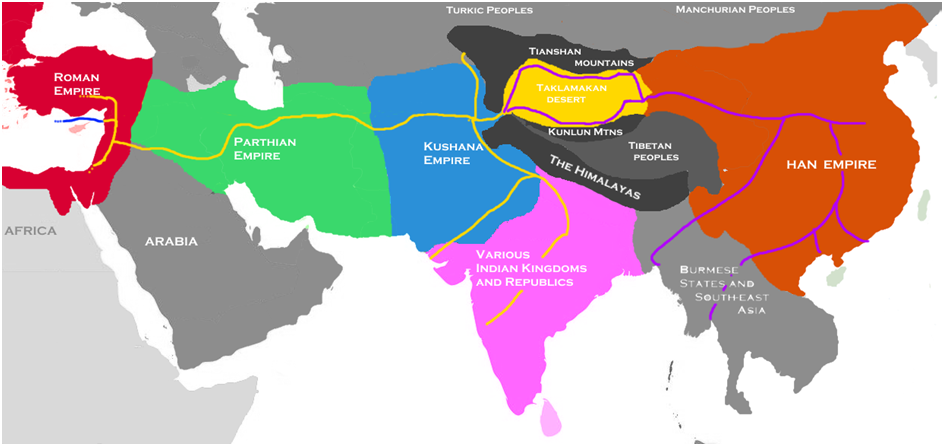 Episode 14: Silk Roads – In the Footsteps of the Nomads
Foundations of Eastern Civilization
Dr Craig Benjamin
Film Review
Benjamin begins this lecture by outlining the significant "revolutions" (ie leaps) in the progress of human beings towards "modernity":
50,000 years ago – Upper Paleolithic Revolution produced technologies enabling humans to survive the Ice Age, eg tools and weapons to hunt large mammals, cave art and symbolic language.
11,000 years ago – Agricultural Revolution.
5,000 BC – Urban Revolution (first cities and states
Benjamin views the development of the Silk Road trading network in the 2nd century BC (linking all of Afro-Eurasia with the Roman and Han Empires ) the fourth major human "revolution."
He believes the first Silk Road paths probably used the same paths early hominids used to migrate from Africa to Asia. He credits their development into a major trading network to two main factors: 1) the presence of four stable empires (Roman, Han, Kushan, Parthian and Roman) across the Middle East and Asia and 2) the Secondary Products Revolution on the Steppes.
The latter he attributes to the discovery by steppes nomads that domesticated animals could provide a number of secondary products (eg milk, fur, transportation and load bearing) that improved human beings' quality of life. On the steppes, this discovery led to nomadic pastoral herding and the eventual colonization (by nomads) of all the deserts and steppes of Africa and Eurasia.
Benjamin goes on to describe in some detail the "lifeways" of the Xiongnu nomads to the north of China. In addition to pastoral nomadism and booty raids on the Chinese, the Xiongnu also engaged in rug weaving, leather making and the forging of bronze, gold and iron tools and artwork. A small segment of Xiongu also engaged in farming in fortified settlements in Noin-Ula (modern day Mongolia) and Ivolga (on the Russian steppes).
Film can be viewed free on Kanopy with a library card.