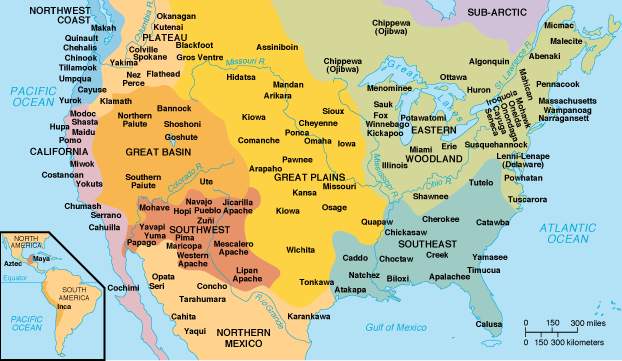 Episode 25: North American Peoples and Tribes

The Big History of Civilizations (2016)
Dr Craig G Benjamin
Film Review
As Benjamin describes in this lecture, early human civilization developed spontaneously on four isolated continents: the Afro-Eurasian zone, the Americas, Australasia and the Pacific. The American civilizations developed 2,000 years later than those of Afro-Eurasia. According to Benjamin, this delay stemmed from difficult climatic conditions that made it difficult to produce sufficient food for the development of complex cities.
Unlike South America, early North American settlements never produced the rigid hierarchies, tribute taking, powerful coercive rulers or organized warfare that characterized most Afro-Eurasian civilizations. That being said, several complex North American societies arose out of sedentary and semi-sedentary settlements that supplemented food production with hunting and gathering.
Woodland tribes east of the Mississippi River lived in semi-sedentary groups that grew corn and beans via horticulture.* Prior to 60 AD, they practiced woodworking, leather working, shelter building and tool production. From 600-800 AD, they abandoned their semi-nomadic life ways to establish permanent villages of up to 40,000 inhabitants and began using a bow and arrow, rather than spear, to hunt. By 1400 AD, the five Iroquois tribes formed a state-like structure referred to as the Iroquois Nation.**
Tribes in the Ohio River Valley traded with tribes across the continent, obtaining mica from the Appalachian Mountains, conch shells and sharks teeth from the Gulf of Mexico and copper from upper Michigan.
In the Southwest, the Pueblo people employed irrigation from 600 AD and built permanent adobe structure. They abandoned these dwellings around 1300 AD to return to a lifestyle of hunting and gathering. Benjamin claims this was due to drought, but in The Dawn of Everything, Graeber and Wengrow maintain foraging is even more sensitive to drought than agriculture and residents either overthrew a tyrannical regime or simply opted out. See https://stuartbramhall.wordpress.com/2021/12/14/the-dawn-of-everything-a-new-history-of-so-called-civilization/
In the Northwest, Chinook and Yakima tribes established semi-sedentary settlements lasting several thousands of years after bow and arrow technology spread across the Great Plains.
The Nez Perce, Sioux and Cherokee were Great Plains tribes who developed strong tribal leaders and social;y structured hierarchies and experienced a fair amount of inter-tribal warfare.
The Paleo Eskimo tribes became expert fishermen and hunters. They lived in ice houses they heated with fire and crafted fur clothing, canoes and exquisite tool, spears and knives from bone, antler, stone and tusks.
Benjamin notes that all North American tribes developed shamanistic practices and grew corn and tobacco (which were first domesticated in South America).
The Vikings were the first Europeans to make contact with North American tribes in Newfoundland in 1000 AD. They returned to Scandinavia during the Little Ice Age (1400-1600 AD), when it became too cold to produce sufficient food.
---
*Horticulture is the cultivation of domesticated plants at a small scale garden level, as opposed to agriculture, which focuses on mass production of food.
**Mohawk, Oneida, Onondaga, Cayuga and Seneca.
The film can be viewed free on Kanopy.
https://pukeariki.kanopy.com/video/north-american-peoples-and-tribes