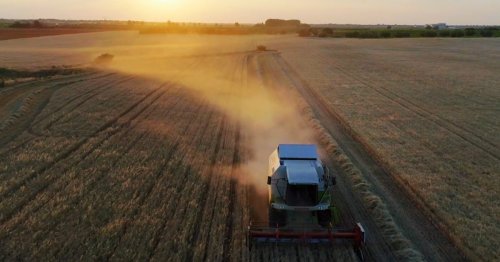 The Price of Progress: How Safe is European Agriculture
Al Jazeera (2020)
Film Review
The title of the film suggests industrial agriculture represents "progress," which I dispute. In the process of making a handful of people very rich, corporate farming has destroyed millions of acres of topsoil (see Regenerative Agriculture: Saving the Planet While Restoring Topsoil and Growing Healthier Food), while simultaneously contaminating most of humankind with more than 100 persistent toxic chemicals (see New Environmental Chemical PFAS in Pregnant Women).
The film's format consists of multiple soundbites from corporate lobbyists, EU regulators and environmental and human rights advocates on the topic of industrial agriculture. The attitude of each group is fairly predictable. The corporate executives attack the Precautionary Principle for being anti-scientific and discouraging investment; the regulators respond defensively that their processes are totally transparent and unbiased; and the environmental and health advocates challenge the corporate capture of both scientific research and EU regulatory agencies. They also point to the link between increased pesticide use and skyrocketing breast cancer rates, the failure of EU regulators to ban Monsanto's Roundup (despite its proven link with non-Hodgkins lymphoma); the refusal of regulators to release pesticide safety data; and corporate (and regulator attitudes) that exports, jobs and growth are more important than people's lives.
Personally I would have preferred a formal debate format that allowed environmentalists and health advocates to directly challenge the lobbyists and regulators about their blatant disinformation.
For example, one lobbyist asserts that pesticides are essential because Europe has no more land to dedicate to food production. This is totally untrue. Thanks to ongoing industrialization, agricultural land continues to be abandoned at a high rate in Europe (see https://ec.europa.eu/jrc/sites/jrcsh/files/jrc113718.pdf) – increasing corporate profits while producing food that is tasteless and nutrient-poor.
Another industry lobbyist claims Europe must continue fossil fuel use in agriculture to double food production (to accommodate population increases) by 2050. This is also blatant propaganda. Decades of research reveal that the monoculture cropping that characterizes (which produces only 20% of the global food supply) has much lower yields (in calories per acre) than more traditional organic polyculture farming. (See Regenerative Agriculture: Saving the Planet While Restoring Topsoil and Growing Healthier Food)
I was also discouraged by the so-called debate over the "independence" of EU scientists who evaluate the scientific merit of industry safety studies. I think it's a waste of time to ask industry to perform objective research on the pesticides they manufacture. Surely the safety of Roundup and other pesticides can only be meaningfully assessed by independent research.
https://www.aljazeera.com/program/featured-documentaries/2021/5/14/the-price-of-progress-how-safe-is-european-food-production