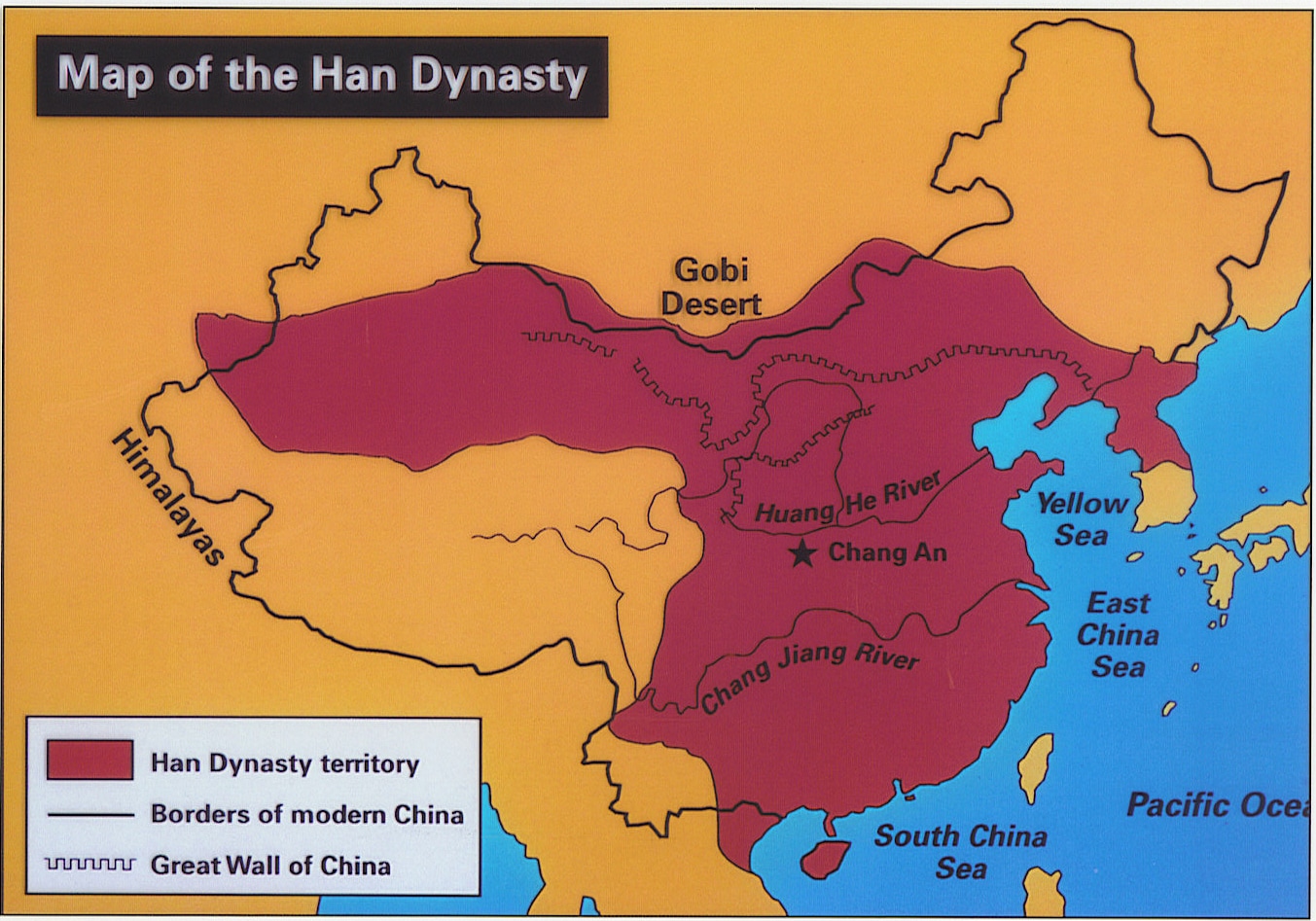 Episode 11: Contact with the West – the Early Han

Foundations of Eastern Civilization
Dr Craig Benjamin (2013)
Film Review
The first Han emperor Gaozu moved the capitol to Changon after a popular uprising destroyed the Qin capitol Xianyang. Later Han emperors would move it east to Lyoyang.
Ruling a vast empire stretching from Vietnam in the north to Korea in the south and west into Central Asia, Gaozu employed a bureaucracy of highly educated Confucian and Daoist scholars. In the year 2 AD census, the Han empire registered 80 commanderies,* 10 kingdoms and 1,587 prefectures (which were further subdivided into wards).
Immensely popular for reducing taxes on the peasants, the first Han emperor adopted Confucianism as official government policy in 140 BC. The last Han emperor Wudi would found a Confucian academy to educate government officials and initiate the world's first civil service exam.
The Han Dynasty continued the harsh criminal penalties enacted under the Qin Dynasty and forced all subjects to register locally for conscription for military service and imperial construction crews. To finance his numerous military campaigns, Wudi began minting coins, confiscating lands he had gifted to his nobles and increasing taxes on business activity. This income supplemented growing revenues from the government monopoly on the highly lucrative salt and iron industries.
Wudi is also remembered for dispatching the famous Han envoy Zhang Qian to Central Asia to seek an alliance with the Yuezhi nomads against the aggressive Xiongu nomads to the north of China. The international contacts Zhang Qian initiated would lead to the development of the first Silk Road.
Eventually the fiscal stress caused by Wudi's military expansionism led to marked peasant unrest and the downfall of the East Han Dynasty in 9 AD. Daoist scholars particularly expressed harsh criticism of corrupt government policies (eg government monopolies in critical industries, incessant wars of conquest and the growing power of palace eunuchs).
One of Wudi's court officials Wang Mang seized power in 9 AD, declaring the short-lived Xin Dynasty. Wang was immensely popular with Chinese peasants for apportioning land to them under the communal "well field system"** and for establishing grain reserves to stabilize widely fluctuating grain prices.
Wang was overthrown in 23 AD by a group of nobles who resented his favoritism towards the peasants.
The Xin Dynasty was replaced by the East Han Dynasty, which ruled for nearly two centuries. Eunuchs were incredibly powerful under the East Han Dynasty and frequently arrested Confucian scholars for protesting government corruption.
Meanwhile Daoist principles of equal rights and land distribution spread throughout the peasantry, leading to the Yellow Turban Rebellion (184 – 204 AD). As the Han Dynasty collapsed, power eventually fell into the hands of local governments and warlords.
---
*Provincial regions with decentralized administrative structures
**In the well–field system, one unit of land was divided among eight peasant families. A shared field was surrounded by eight fields, each worked by an individual family. The field in the center was worked jointly by the families for their noble lord.
Film can be viewed free with a library card on Kanopy.