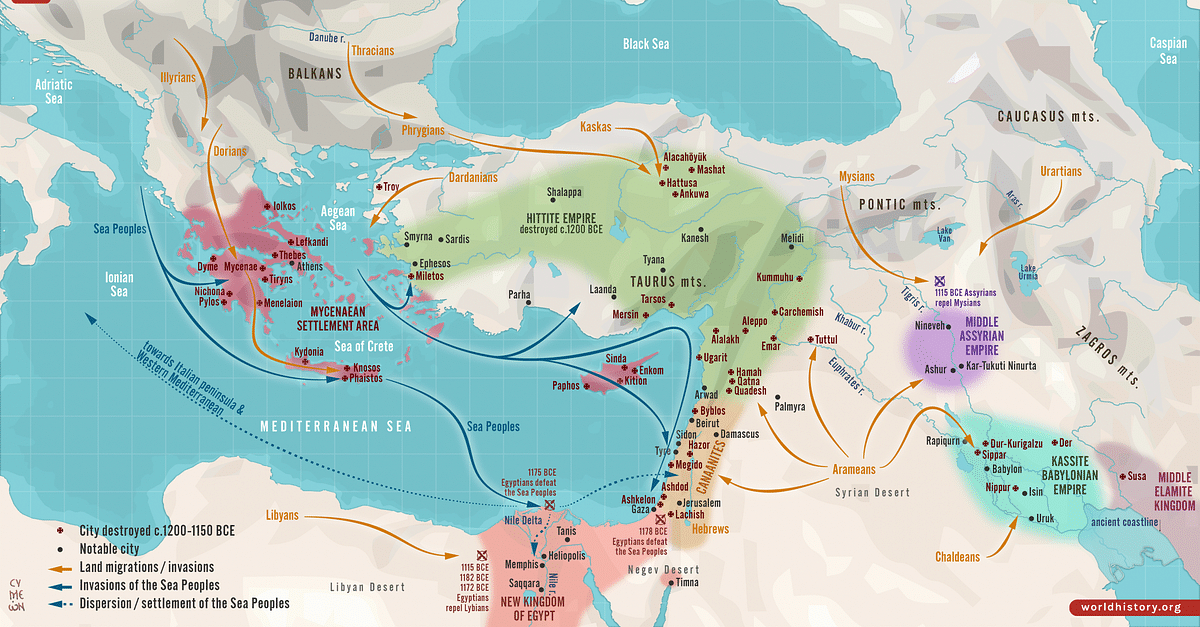 Episode 18: The Late Bronze Age and End of Peace

Ancient Mesopotamia: Life in the Cradle of Civilization
Dr Amanda H Podany
Film Review
This lecture concerns the mysterious collapse of all Near East civilizations during the 12th and 11th century BC.
Podany begins by describing the vast Near East trade network established by 1300 BC. The immense wealth of this is clear from the remains of a ship sunk off the coast of Turkey around 1250 BC. Departing from the kingdom of Alashiya (Cyprus), from its cargo it had clearly visited several Mediterranean ports before sinking off the coast of Anatolia.
In its hold were 10 tons of copper ingots from Alashiya, glass ingots and a ton of tin from Canaan, 150 enormous jars of terebinth resin (used as incense and in perfumed oils), ebony, ivory, three ostrich eggs, spices and olives from Africa, Mycenaean* drinking vessels and swords, 800 pounds of Egyptian gold, glass and shell Murax (a vivid purple dye) from Syria.
The Late Bronze Ange diplomatic/trading alliance first started to break down when Hittite invaded Canaan, which was under Egyptian control. The result would be a a direct confrontation between Egyptian and Hittite armies at the Battle of Qadesh in 1274 BC. The outcome was a stalemate, with the Hittites continuing to control the territory they conquered at Qadesh.
A century later the Hatti (Hittite) empire would collapse (1185 BC). Babylonia collapsed in 1155 BC, after being invaded by the Elamites (from Syria). The Alashyian kingdom on Cypress collapsed around the same period, as did the Assyrian empire (formed when eastern Hatti declared independence from Hittite-controlled western Hatti) shrinking back to the single city-state Assur. In 1070 BC, Egypt's New Kingdom collapsed after 400 years of rule.
The root cause of these simultaneous collapses is obscure. There are  written accounts (the most complete by pharaoh Ramses III) of unidentified Sea Peoples* in kilts attacking major cities and destroying palaces and citadels. Some historians blame grain shortages famines and others a flurry of earthquakes and fires that destroyed several cities.
The explanation Podany (and I myself) seems to prefer relates to popular anger and civil unrest stemming from the heavy oppression and exploitation the opulent elite of these empires imposed on their impoverished populations. This is supported by evidence that 1) only palaces and citadels were destroyed in most cities, with private dwellings left untouched 2) only some cities were attacked while others remained intact and 3) many inland cities beyond the reach of the "Sea Peoples" were destroyed.
This theory is consistent with research David Graeber and David Wengrow present in The Dawn of Everything reveal that (prior to the last 500 years) humankind has had an extremely low tolerance of extreme exploitation. See https://stuartbramhall.wordpress.com/2021/12/14/the-dawn-of-everything-a-new-history-of-so-called-civilization/
---
*Evidence, along with two Mycenaean ambassadors on board prior to the shipwreck, that the Mycenaean Greek city-states (which preceded the classical Greek city-states by several hundred centuries – see https://stuartbramhall.wordpress.com/2021/11/16/the-prehistoric-phoenician-hebrew-minoan-and-mycenaean-civilizations/) participating in the large Near East trading and diplomatic network established in the Late Bronze Age (1600 – 1200 BC).
**Believed to originate from Mediterranean island near Cyprus, Anatolia and Mycenaea), these Sea Peoples have been identified as originating from Pelest (origin of the name and the ancient Philistine people), Tjeker, Shekelesh, Denyen and Weshesh. Egypt repelled them, though some settled north of Egypt in Caanan. Podany raises the possibility that the Trojan War described by Homer in the Iliad was a Sea Peoples war.
This film can be viewed free with a library card on Kanopy.