The Chinese and Indian bans have shown that exporting plastic waste is unsustainable — and Thailand and Malaysia, too, have announced bans, not wanting to continue on as the dumping ground for the world's plastic waste.
xenagoguevicene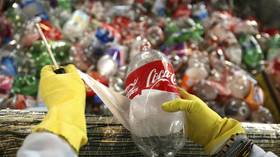 India has followed China's lead and banned imports of solid plastic waste in an effort to tackle its own environmental crisis — but the move has added to an ever-growing global recycling and plastics crisis.
One year ago, the Chinese government implemented its 'National Sword' policy, which put a stop to the massive flow of recyclable plastic waste from Western countries. Plastic imports to China were down 99 percent in the first year since the new import restriction came into force.
Until the Chinese ban, the US, UK, Germany and Japan were among the biggest exporters of plastic to China. The new rules forced them to look elsewhere to send their plastic recyclables. UK exports to Malaysia nearly tripled, while exports to Thailand were 50 times greater. The US is the biggest plastic exporter to Malaysia, sending 195,444 tonnes between January and July 2018.
View original post 741 more words