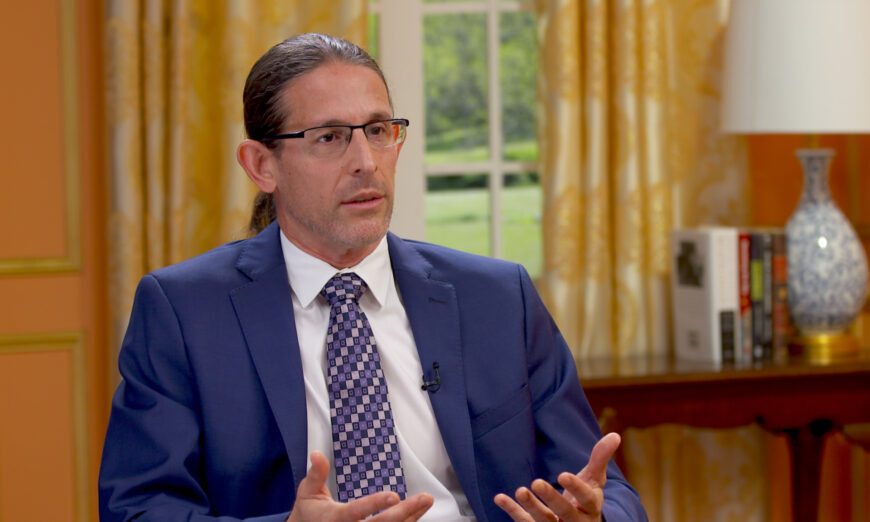 Retsef Levi: Dissenting views about the COVID-19 narrative have
Epoch Times
Retsef Levi, a former Israeli military intelligence officer, an expert in risk management and health systems, and a professor at The Massachusetts Institute of Technology Sloan School of Management, coauthored a paper that found a 25 percent rise in heart attack emergency calls among young Israelis after the country's rollout of the COVID genetic vaccine.
Levi argues that there is enough data from this and various other studies on the vaccine's adverse heart effects, to stop its use and run a thorough investigation into why many once-healthy young people suffer or die from heart inflammation after being vaccinated.
"The main question that we need to ask ourselves is, do we have enough evidence from this study and many other studies, to say halt!" Levi said during a recent interview with Epoch TV's "American Thought Leaders" program. "We're going to stop these vaccines, for young individuals, but maybe overall, and we're going to take the time to really look very, very carefully and scrutinize every piece of data and bring together every possible piece of data to understand what is the answer."
Levi has worked extensively in the areas of analytics and modeling, looking at issues of risk management in the field of healthcare and other related systems. Mainly, analyzing data sets to see what they reveal about quality, safety, risks, etc.
His coauthored paper in Nature Scientific Reports looked at Israel's national emergency calls in the first five months of 2021 and found a 25 percent increase in cardiac arrest and heart attacks in men aged 16-39 as compared to the year before the national vaccine rollout.
The study found, "a temporal correlation between this increase starting in early 2021, and the launch of the vaccination campaign in Israel," said Levi.
The paper does not conclude a causal relationship between the vaccine and the observed increase in heart problems, but it definitely gives enough evidence to warrant an in-depth investigation said, Levi.
Further, Israel's health ministry should want to know why there was an increase in heart problems; but instead, they "launched an attack on us, both in the public domain, as well as even actively trying to approach the journal and asked the journal to retract the paper," said Levi.
Sound Scientific Process Abandoned
There is a lot of data that strongly suggests an increase in myocarditis or death in young people who have been vaccinated. Levi believes that the haste with which the vaccines were produced, approved, and deployed, neglected safety and best practices for rolling out vaccines.
This deviation from basic sound scientific principles has put health officials in Israel and the United States, "in a situation where you essentially cannot admit any wrong anymore because that will imply that you did something very, very disastrous," said Levi. "We approve it in a very expedited way, and we approve it to everybody regardless of the risk, and that was basically the fundamental mistake that we've done. And I think everything else can be explained by that."
There was strong early evidence, including a 2020 study done by Stanford University researchers John Ioannidis and colleagues concluding that people under 65, with no comorbidities, had very little risk of death from COVID-19 and should have helped target vaccines to the high-risk populations.
Levi believes health agency officials and governments should not have required vaccinations for healthy young people, and by doing so, "put them in a situation when they take an unknown risk that now we know is actually, in some cases pretty substantial, and could really compromise the future of young people and including causing their death."
Mounting Evidence Against Vaccinating Youth
Florida Surgeon General Dr. Joseph Ladapo, recently advised Floridians not to vaccinate healthy young people, because he found an 84 percent increase in heart problems among young men. While his study also does not prove a causal relationship, "at the very least, this should just raise your concerns that something really, really disturbing is happening here," said Levi.
Levi thinks the public should look at a variety of studies when determining the safety of any vaccine or health guidance, and that Ladapo's findings are in keeping with a large body of evidence that supports his guidance, even though the mainstream is dismissing this evidence.
Levi believes Ladopo was correctly following the mounting evidence of vaccine-related heart problems and deaths, and the principle of "do no harm." "Ladopo was saying, I don't feel comfortable to continue to give these vaccines to young individuals, given the evidence that I have," said Levi.
[…]
Via https://www.theepochtimes.com/health/halt-vaccination-of-young-people-until-vaccine-linked-myocarditis-is-studied-mit-professor_4882005.html