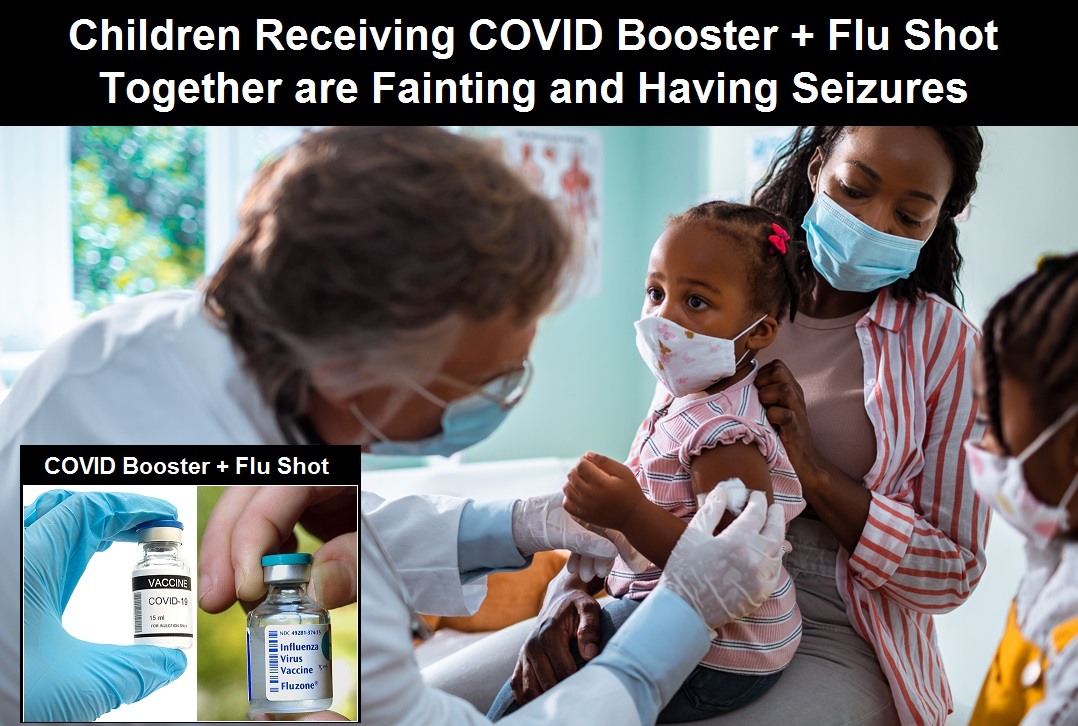 by Brian Shilhavy
Editor, Health Impact News
Prior to the COVID-19 plandemic in 2020, the yearly influenza vaccine was the most dangerous vaccine in the United States in terms of injuries and deaths recorded in the Government VAERS (Vaccine Adverse Events Reporting System) database.
When the world was told that a deadly new virus had arrived in 2020, the flu basically disappeared, as there just were not enough people dying to inflate both influenza and COVID death statistics.
According to the CDC, here are the total amount of flu deaths during the 5 years preceding 2020:
34,000 deaths in the 2018-2019 flu season
61,000 deaths in the 2017-2018 flu season
38,000 deaths in the 2016-2017 flu season
23,000 deaths in the 2015-2016 flu season
51,000 deaths in the 2014-2015 flu season (Source.)
These were of course "estimated deaths" that the CDC calculated each year, and we have documented many times during those 5 years that these numbers were greatly inflated in order to scare the public into getting the flu shot each year. See: The Disappearance of the Annual Flu Which was Replaced with COVID-19
Here are the current number of flu deaths since 2020 according to the CDC:

And yet even though the CDC's estimated flu deaths have fallen by up to 5,000% since 2020, the number of flu vaccines sold in the U.S. reached a record high at the end of 2020, the last year flu vaccine sales data is available, at 193.8 MILLION doses.

The pro-vaccine crowd may be tempted to reply that the increase in flu vaccine distribution resulted in a decrease in flu deaths, but when the 2021-2022 flu season began, the corporate media stated this year's flu season vaccine was NOT a good match for the varieties of flu viruses circulating, and that this was going to be a "bad flu season."
[…]
Since 2020 through the most current statistics added to the VAERS database last Friday, September 23, 2022, there have been 20,190 cases of flu vaccine injuries filed, including 185 deaths, 498 permanent disabilities, 237 life threatening events, 2255 visits to the ER, and 1095 hospitalizations. (Source.)
Using a couple of different search techniques in VAERS to try and find cases where people have already received both a COVID-19 vaccine and a flu shot since this recommendation was made, I found several cases where people apparently took the White House's and the CDC's advice (given in September, 2021) and got both vaccines together, and then suffered an adverse event.
[…]
The most common side effects these children who have received BOTH a flu shot and a COVID shot together at the same time are experiencing are dizziness and fainting within minutes of receiving both shots.
Other recorded side effects included myocarditis (heart disease), inflammation of the brain and spinal cord (encephalomyelitis), seizures, convulsions, organ failure, cardiac shock, rashes, vomiting, and hearing and vision loss.
These are a sampling of the multitude of cases I found of children who received BOTH a COVID-19 vaccine and a flu vaccine at the same time. This list is NOT exhaustive, just the ones I could find (54).
[…]
VAERS ID: 1713577: 12-year-old girl from Virginia
Patient experienced vasovagal syncope just minutes after receiving her second Pfizer Covid-19 vaccine and the seasonal influenza vaccine together.
[…]
VAERS ID: 1757449: 17-year-old boy from Maine
Patient states they "blacked out" soon after vaccination. Patient was unresponsive for approximately 3 minutes. Patient also states they felt "Dizzy" soon after vaccination.
VAERS ID: 1848995: 7-year-old boy from California
[…]
At approximately 1055, as the client was standing next to his mother, he began to slouch over the vaccination table and vaccinator RN"s assisted client to the ground. Client lost consciousness for approximately 2 seconds.
[…]
VAERS ID: 1848851: 8-year-old girl from Minnesota
Syncopal episode (fainting) with subsequent emesis (vomiting)
VAERS ID: 1929158: 11-year-old girl from Georgia
Patient received Pediatric Pfizer dose in left deltoid. She then received Flucelvax in right deltoid. Upon receipt of 2nd vaccine, patient fainted and lost consciousness for a few seconds.
[…]
VAERS ID: 2019711: 11-year-old boy from Arizona
Patient was getting a haircut when he slumped over in the chair and passed out unconscious for 15-20 seconds. When he came to, his eyes were blood shot and he was disoriented (not sure what happened). He said that he suddenly became dizzy before blacking out.
[…]
VAERS ID: 1831616: 15-year-old boy from Ohio
Patient passed out in store about 1 hour after his vaccines.
[…]
VAERS ID: 2021990: 17-year-old girl from California
Patient lost consciousness as observed by accompanying guardian. Per guardian, patient also had a short seizure and skin color turned pale.
[…]
VAERS ID: 2436380: 14-year-old boy from Colorado
RECEIVED FLUARIX FIRST IN LEFT ARM THEN RECEIVED PFIZER BIVALENT – START SEIZING- TWITCHING HEAD BACK- NON RESPONSIVE FOR 5 SECONDS – NAUSEOUS AND LOSS OF ALL HIS COLORS-
VAERS ID: 1855102: 9-year-old boy from Iowa
Shortly after receiving his vaccines he was sitting on a chair and then started to pass out and fell to the floor. He was out for about 5 seconds.
[…]
VAERS ID: 2440039: 17-year-old boy from California
Patient appeared to be having a seizure for a short time (estimated to be less than a minute) after receiving his vaccines. The adverse event happened about a minute after receiving the vaccines.
[…]
VAERS ID: 1942394: 8-year-old boy from Pennsylvania
pt got 2 vaccines – flu and 2nd covid vaccine , pt fainted – gave water and put ice pack on back
VAERS ID: 2043579: 16-year-old boy from Michigan
Pt received pfizer vaccine first, followed by flucelvax. Pt fainted after flucelvax (10sec post flucelvax, <2min post pfizer covid vaccine).
[…]
VAERS ID: 1959935: 8-year-old girl from Virginia
After vaccination, the patient fainted in the administration room. \
[…]
VAERS ID: 2446442: 13-year-old boy from Indiana
Patient began feeling very warm about 4 minutes after receiving the vaccine combination. Patient was waiting in the car for the 15 minute suggested wait period. Patient"s caregiver stated that about 5 minutes after receiving the vaccines, the patient blacked out in a seizure like behavior and was out for about 25 seconds. When he became responsive, he vomited and complained of an overall numb feeling.
VAERS ID: 2032631: 11-year-old girl from Florida
Patient became lightheaded about 5 minutes after vaccine administration. She then started to sweat and turn white and finally fainted. After lying her on the floor she woke up almost immediately.
VAERS ID: 1858332: 8-year-old boy from Kentucky
Pt. received two vaccinations around 3:10pm. He was fine immediately following the injections. He stood up to wait for his father to be vaccinated. After the father"s first injection, patient fell back against the plastic cart of supplies and started to lose consciousness.
[…]
VAERS ID: 2057988: 14-year-old boy from Pennsylvania
patient received a flu vaccination and a Pfizer covid vaccination. Patient fainted after vaccination but quickly regained consiousness
VAERS ID: 1858775: 9-year-old boy from Kentucky
After receiving both vaccines patient was walking around the store with his mom and told her he didn"t feel good. Patient proceeded to pass out and hit his head. Patient peed his pants and felt light-headed until the ambulance arrived and they checked him out.
VAERS ID: 1885954: 16-year-old boy from Missouri
Patient passed out briefly while walking down an aisle roughly three minutes after vaccine was administered.
[…]
VAERS ID: 1913283: 14-year-old girl from Texas
Patient woke up this morning and felt very dizzy, fell and hit her face, causing a nosebleed and possible fracture of nasal bones. She was seen at ER where they ran testing, observed her for an hour and sent her to our office
VAERS ID: 1914226: 9-year-old girl from California
Patient collapsed about a couple of minutes after vaccines.
[…]
VAERS ID: 1912790: 10-year-old boy from North Dakota
Dizzy and Faint, pt seated and given a cold pack with orange juice and crackers. Outcome: pt reports feeling "better than before" after 15 minutes.
VAERS ID: 2005824: 15-year-old boy from Indiana
PATIENT RECEIVED PFIZER FIRST, THEN FLU RIGHT AFTER. HE FAINTED MOMENTS AFTER SECOND VACCINE.
[…]
VAERS ID: 1868039: 9-year-old boy from Texas
Patient passed out shortly after vaccination.
[…]
VAERS ID: 1876449: 5-year-old boy from New York
Immediately after administering both vaccines, patient passed out for few seconds, Once he woke up, he did not feel well and started vomiting.
[…]
VAERS ID: 1732144: 12-year-old boy from Washington
Nausea (feeling of needing to throw up); Blurred vision; High pitched ringing noise
VAERS ID: 1898199: 9-year-old girl from Kansas
Patient fainted immediately after giving 2nd vaccine.
[…]
VAERS ID: 1826456: 17-year-old boy from Oregon
chest pain, shortness of breath, likely myocarditis
VAERS ID: 2140504: 7-year-old girl from Nebraska
Beginning about 2 days after the vaccine, patient began reporting headaches. The headaches were severe enough to require medication, ice, rest, removal from her classroom at school, and then medical intervention. Various treatments have been attempted but she continues to report frequent headaches and migraines.
[…]
VAERS ID: 1870113: 11-year-old girl from Minnesota
Patient presented to clinic as walk in for a COVID-19 vaccine and flu vaccine. Patient received both vaccines as indicated above. Patient stood up and proceeded to the door in which she became faint with syncope response.
[…]
VAERS ID: 1948381: 11-year-old boy from Texas
Covid19 and Flu vaccine were given on Nov 17,2021. On Dec 6th patient started to endorse severe headaches that waxed and waned for 7 days and somnolence . On Dec 13 was admitted after MRI confirmed signs of acute disseminated encephalomyelitis (Inflammation of the brain and spinal cord.)
[…]
VAERS ID: 1902125: 5-year-old girl from South Carolina
Patient received both vaccines in our office on 11/22/21 and around 6pm that evening she started with fever and urticaria (hives). Her fever got up to 102 and her parents treated it with Tylenol and Motrin rotating.
VAERS ID: 1993435: 11-year-old boy from Georgia
Received COVID vaccine #1 (Pfizer for 5-11 yr) on 11/22/21 and two days later on 11/24/21, parents state when asked to perform simple task, he became significantly emotional, laid on garage cement floor, curled up and continued to cry for 2-3 hours. He has not had episodes like this previously. The emotional episodes has continue to reoccur since 11/24/21.
VAERS ID: 1954575: 10-year-old girl from Missouri
Seizure occured 20-30 minutes after basketball game.
[…]
VAERS ID: 2204294: 9-year-old boy from California
Client and his mother reported the client developed dizziness, weakness, "like he had no strength," about 5 hours after the vaccine that lasted 15-20 minutes.
[…]
VAERS ID: 1928586: 11-year-old girl from Iowa
Patient received both shots and then a few minutes later she fell backwards.
[…]
VAERS ID: 1942056: 8-year-old girl from Virginia
A few hours after 2nd COVID-19 vaccine, my daughter developed a facial twitch on her right check cheek.
[…]
VAERS ID: 2233852: 11-year-old boy from Michigan
Case-patient had first Pfizer COVID-19 vaccine on 12/18/2021 and illness onset for MIS-C was on the same day.
[…]
VAERS ID: 1968450: 10-year-old girl from Alaska
a few minutes after vaccine administration patient informed her mother that she felt like she couldn"t hear and had some visual disturbance as she couldn"t see out of her left eye. Patient then vomited once.
[…]
VAERS ID: 1970404: 9-year-old boy from Alaska
A technician administered the flu and covid vaccines, then walked back to the pharmacy. About a minute later someone in the lobby reported an emergency, I (pharmacist) went to the lobby area to see the matter. Patient was on the floor and appeared to be waking up, his mother stated she thought he had convulsed then fainted.
[…]
VAERS ID: 1989874: 10-year-old boy from Wyoming
Approximately 5 minutes after receiving both vaccinations patient had what father, an MD, described as focal seizure. Patient went rigid and lost consciousness briefly.
[…]
VAERS ID: 2028700: 17-year-old girl from Texas
Patient briefly lost consciousness and had two convulsions after which she woke back up and acted normally once again. Patient did feel light headed afterward
VAERS ID: 2075279: 13-year-old boy from California
Approx. 10 minutes after vaccination patient was pale, clammy, dizzy and said he was having trouble catching his breath. His breath, he said he had trouble seeing and that his arm felt numb.
VAERS ID: 2397848: 12-year-old girl from Florida
Chronic Autoimmune Urticaria daily since the begin of February, full body Angioedema sporadically since May, facial mostly eyes and lips
VAERS ID: 2069198: 16-year-old girl from California
Patient reported chest tightness and dull pain in center of chest that varied in intensity that occurred 3 days after receiving the COVID Pfizer booster vaccine.
[…]
VAERS ID: 2123895: 14-year-old girl from Michigan
7th facial nerve inflammation. Patient woke up and could not close her eye on the right side of face and had facial paralysis on the right side of face in eye brow, cheek, and tongue and facial drooping and can"t laugh or whistle. VAERS ID: 2411161: 14-year-old girl from California
Eyes rolled back, shaking, fainted for 5 seconds, regained consciousness, and was confused on what happened
[…]
https://healthimpactnews.com/2022/the-flu-disappeared-in-2020-but-not-the-flu-shot-20000-injuries-and-deaths-from-flu-shot-as-children-are-passing-out-minutes-after-receiving-covid-shot-flu-shot-together/