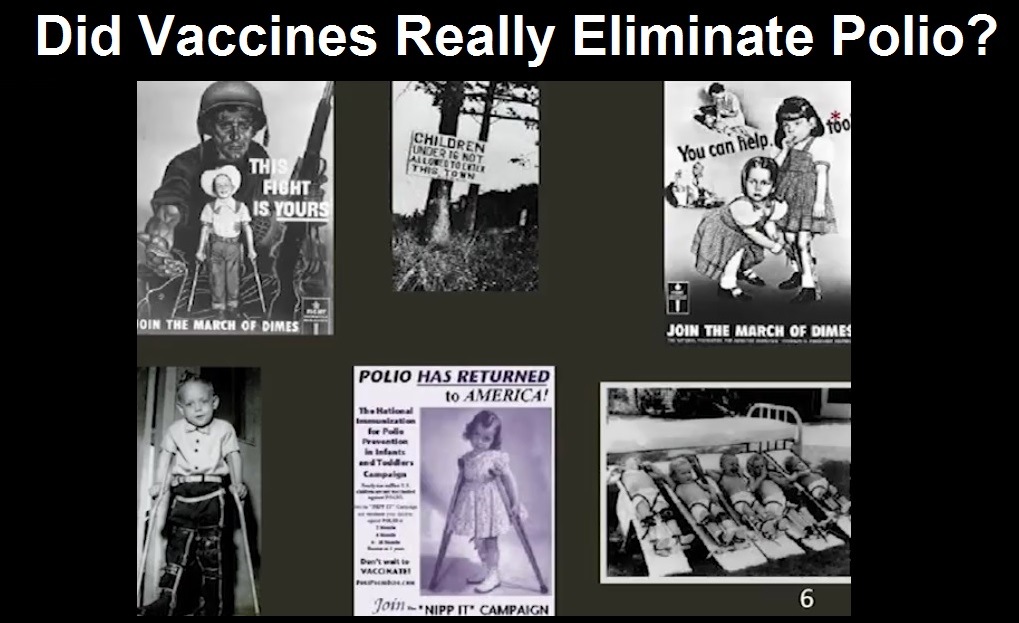 by Brian Shilhavy
Editor, Health Impact News
More and more people in the general public are waking up to the fact that the entire rationale used to vaccinate people is based on dogma, and not science, as many are now questioning those who control the vaccine agenda worldwide for perhaps the first time, with the result of many people choosing to not participate in this religious-like cult anymore.
[…]
But within the past couple of weeks the corporate media has ramped up another scare tactic that seems to be targeted at children, by stating that polio is making a comeback, based on alleged detection of the "polio virus" in sewage and water treatment systems.
This "polio virus" has allegedly been detected in London and New York City.
[…]
But here's the truth that is either not mentioned or buried in the details of the reports: these alleged "polio viruses" originate from individuals, mostly children, who have been vaccinated with the "live" oral polio vaccine (OPV), which has been banned for decades now in the wealthier nations because it is a well-known fact that these vaccines "shed" causing the infectious agent to pass through stools and urine and infect sewage and water treatment systems.
Rather than ban these highly toxic and dangerous vaccines, however, they have been continued to be distributed to poorer countries in Africa and Asia (particularly Afghanistan and Pakistan in recent years.)
The history of the polio vaccine and the corruption behind it is a topic we have covered for over a decade now on Health Impact News. We have been attacked and censored on this topic, as we have made the claims that based on the evidence:
the polio vaccine never eradicated "polio" as they simply renamed the symptoms associated with "polio" to make it look like polio disappeared, and
the only people being infected with a "polio virus" today are those who were vaccinated for it with the live, oral polio vaccine.
This was called a "conspiracy theory" for years by the corporate media, but the truth became so obvious that in 2019, just a few months before the "COVID Pandemic" arrived, the corporate media finally admitted that the only cases of polio worldwide were caused by the polio vaccine. NPR even did an entire show on it. See:
Big Pharma and Corporate Media Finally Admit the Oral Polio Vaccine is a Failure – Causes Polio Instead of Preventing It
Just as there has been throughout the COVID-19 scam, honest doctors came forward over the years to expose the corruption in the polio vaccination campaigns, stating clearly that the polio vaccines were the problem, not the solution, but they were censored and even silenced.
Dr. Nicholas Gonzalez, M.D., was one of those critics, and we republished an article he wrote back in 2015:
Nicholas Gonzalez, M.D. – Scientifically No Polio Vaccine was Needed
[…]
Dr. Bernard Greenberg's 1962 Congressional Testimony on Polio
In testimonies given at US Congressional Hearings in 1962, Dr. Bernard Greenberg, head of the Department of Biostatistics of the University of North Carolina School of Public Health, testified that not only did polio increase substantially (50 percent from 1957 to 1958 and 80 percent from 1958 to 1959) after the introduction of mass vaccination programs, but statistics were manipulated to give the impression of the effectiveness of the Salk vaccine. Dr. Greenberg gave the following reasons why it appeared that polio decreased after the vaccine was given:
* Redefinition of an epidemic: More cases were required to refer to polio as epidemic after the introduction of the Salk vaccine (from 20 per 100,000 to 35 per 100,000 per year) ·

* Redefinition of the disease: In order to qualify for classification as paralytic poliomyelitis, the patient had to exhibit paralytic symptoms for at least 60 days after the onset of the disease. Prior to 1954 the patient had to exhibit paralytic symptoms for only 24 hours. Laboratory confirmation and the presence of residual paralysis were not required. After 1954, residual paralysis was determined 10 to 20 days and again 50 to 70 days after the onset of the disease. "This change in definition meant that in 1955 we started reporting a new disease, namely, paralytic poliomyelitis with a longer lasting paralysis," testified Dr. Greenberg. ·

* Mislabeling: After the introduction of the Salk vaccine, "Cocksackie virus and aseptic meningitis have been distinguished from paralytic poliomyelitis, whereas prior to 1954 large numbers of these cases undoubtedly were mislabeled as paralytic polio," explained Dr. Greenberg.
Source: Intensive Immunization Programs, Hearings before the Committee on Interstate & Foreign Commerce, House of Representatives, 87th Congress, 2nd Session on H.R. 10541, Washington DC: US Government Printing Office, 1962; pp. 96-97
Doctors and Scientists Have Been Calling for an END to the Dangerous Oral Polio Vaccine Since at Least 2005
Doctors and researchers who understand the dangers and risks of the oral polio vaccine (OPV) have been calling for an end to this terrible vaccine for years now. An editorial appeared in the Oxford Journals Clinical Infectious Diseases periodical in 2005 titled, "When Can We Stop Using Oral Poliovirus Vaccine?"
[…]
Again, in 2009, an editorial was published in the Oxford Journals Clinical Infectious Diseases periodical titled, "Time for a Worldwide Shift from Oral Polio Vaccine to Inactivated Polio Vaccine", by Dr Aamir Shahzad of the Department of Structural Biology and Biomolecular Chemistry at the University of Vienna.
[…]
The person who has perhaps done more to expose the fraud about polio than anyone else in modern times, however, is Dr. Suzanne Humphries.
In 2011, she started publishing a ton of information exposing the Polio Scam. See:
and
[…]
Finding evidence of the "polio virus" in sewage systems of large international cities where people frequently fly into from countries where the OPV is still being used, has been happening pretty much every year for the past 2 decades or so.
So this is not new "news."
Polio vaccines are the problem, NOT the solution.
As to the polio "virus," it is all hype and fear. Almost NOBODY is dying from polio worldwide.
[…]
Via https://healthimpactnews.com/2022/the-polio-scam-makes-a-comeback-to-scare-more-parents-into-vaccinating-their-children-vaccines-never-eradicated-polio-vaccines-cause-polio/