Ian Miller
Brownstone Institute
An infuriatingly consistent aspect of the mainstream media's COVID coverage was their determination to prematurely credit a country with a wildly successful set of policy interventions. 
While there has been no track record of universally accurate predictions or expectations, the desire to claim victory as far back as spring 2020 has led to subsequent embarrassments as trends change. 
Naturally, New Zealand is no stranger to such untimely praise, with the BBC in July 2020 doing an in-depth look at how New Zealand became "COVID free."
Of course, it was because New Zealand "…locked down early and aimed for elimination" and achieved "effective communication and public compliance."
This is really the whole problem in a nutshell, isn't it? 
Assuming that elimination was possible through effective communication, compliance and early lockdowns ignores the inevitably that COVID will eventually spread throughout the population, whenever you "open up."
Elimination of COVID throughout the world is and always was impossible, and therefore Fauci's assertion that COVID could be "eliminated in certain countries" was inane and virtually impossible.
So how successful has New Zealand been in eliminating COVID in the long term through effective communication, public compliance and early lockdowns?
Well. The numbers speak for themselves.
When the BBC wrote the article explaining New Zealand's remarkable success in eliminating the virus, they were averaging 1.5 cases each day. It's now 2,918 cases each day. 
That's an increase of nearly 195,000%.
Elimination is a pipe dream.
No matter what policy interventions they've added, no matter how many early lockdowns they've tried, COVID has not been eliminated.
Remember how New Zealand's amazing tracking and tracing system allowed them to identify transmission that could have only occurred via aerosols? And recall how all of the pre-pandemic guidance on masking suggested that masks could not stop aerosols? Did that stop New Zealand from using mask mandates to try and continue their elimination goals? 
Of course not!
The following are the currently enforced rules on face masks in New Zealand: 
As a general rule, you should wear a face mask whenever you are indoors. The exceptions are at your home or your place of work if it is not public facing. Your employer may encourage you to wear a face mask even if your job is not public facing.
When it is hard to physically distance from people you do not know, we encourage you to wear a face mask.
Everyone must wear a mask that is attached to the face by loops around the ears or head. This means people can no longer use scarves, bandannas or t-shirts as face coverings.
We know New Zealanders are complying because the BBC assured us that their success was due to population compliance, but the survey data backs that up as well: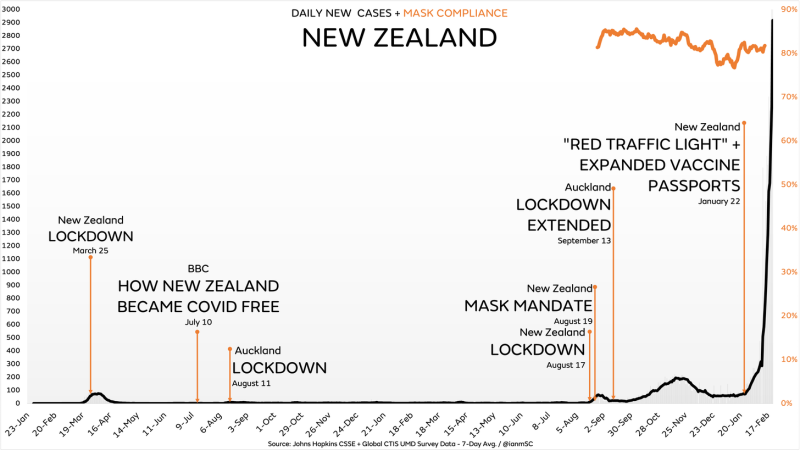 Mask wearing has been consistently high since the mandate came into effect in August, yet cases have exploded anyway.
None of it has mattered. 
And this isn't an insignificant increase. New Zealand's now reporting more new cases adjusted for population than the United States, and identical numbers to the United Kingdom: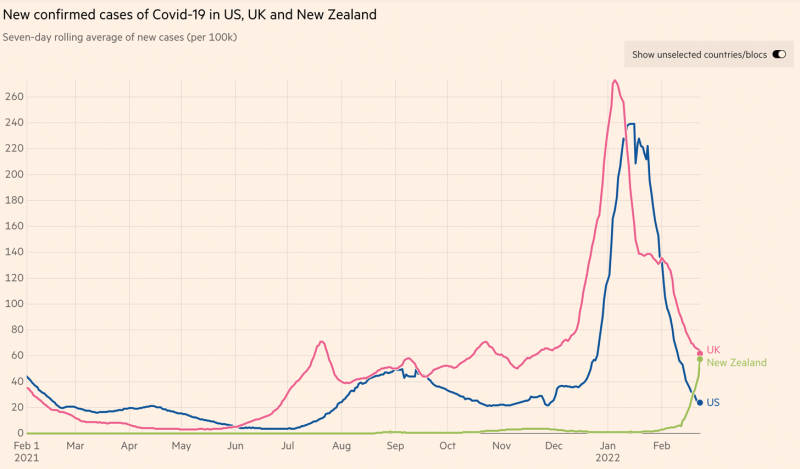 Working perfectly!
---
Elimination Through Vaccination
In the previously referenced interview, Fauci said that the most successful way to "eliminate" COVID was to reach extraordinary levels of vaccination uptake in the population.
While the Our World in Data download hasn't been updated in the past week, over 88% of the population had received at least one vaccination dose in New Zealand by February 15th. 
The numbers are even more impressive when considering only those over 12 years of age. 95% of everyone over in that demographic has been at least partially vaccinated or booked their appointment. 94% are fully vaccinated: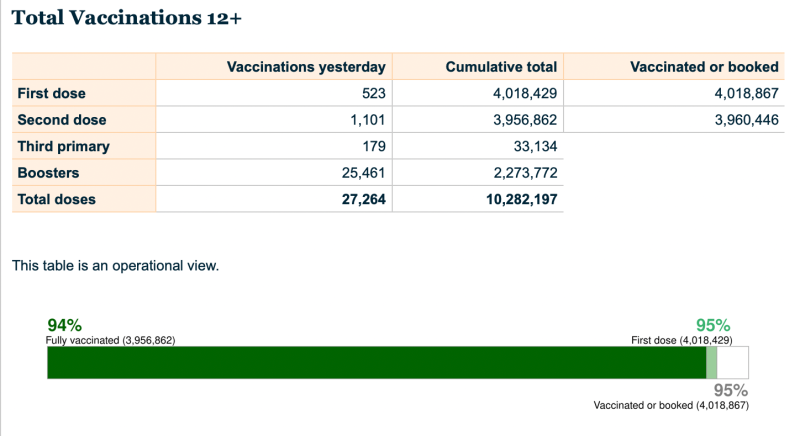 Nearly 2.3 million people over 12 have been given boosters, roughly 53% of that entire population. 
Clearly those incredible rates of uptake must have been enough to maintain the "blanket of herd immunity" that Fauci claimed would be achievable with 75-85% of the population vaccinated.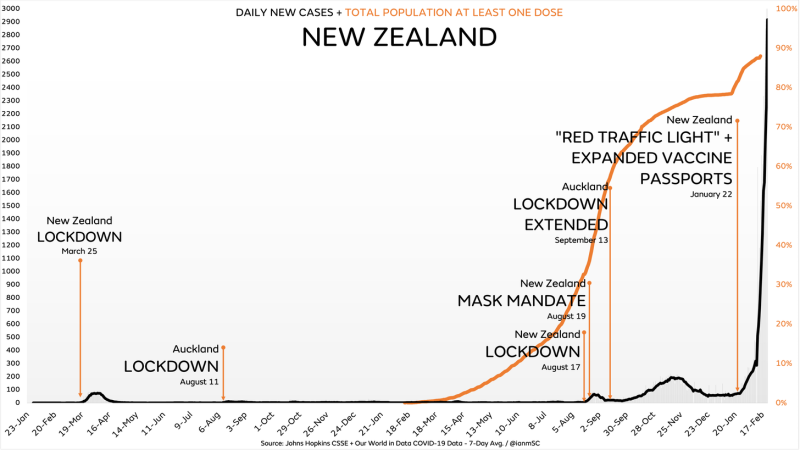 Well. Not exactly. 
Hospitalizations have risen dramatically since January and continue to rise significantly each day. 
News reports from New Zealand sound like those from any generic location in the US where local doctors report concerns of hospitals being overwhelmed:
Authorities anticipate Omicron will become the predominant Covid-19 variant in New Zealand within just two to four weeks of it being introduced into the community – and hospitals are bracing to be "swamped".
Dr John Bonning, a frontline emergency department doctor and immediate past president of the Australasian College for Emergency Medicine, said EDs were already under "enormous duress".
So their elimination strategy did not prevent a dramatic increase in cases, nor a concerning, overwhelming surge of hospitalizations. 
And deaths, while thankfully still low, have increased in recent months as well: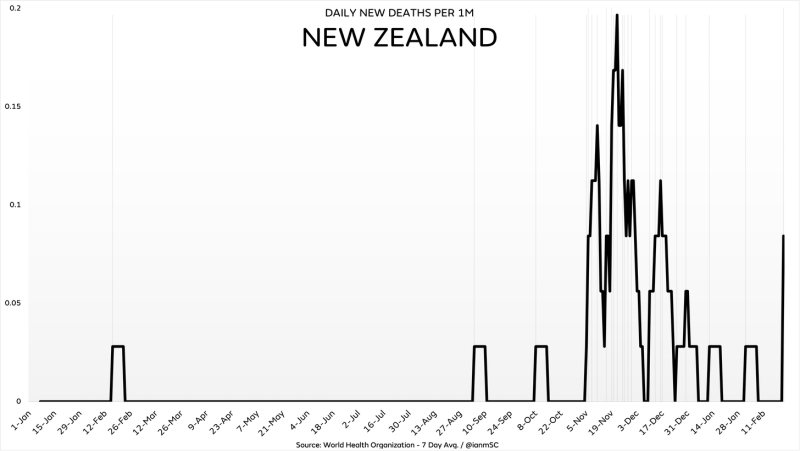 ---
New Zealand's supposed "elimination" through their zero COVID policy has completely collapsed. 
Mask mandates, as their own research indicated, have not prevented surges. Elimination until vaccination has not prevented surges. Zero COVID has been an unmitigated failure, as any rational person would have known and suggested as far back as summer 2020.
[…]
Via https://brownstone.org/articles/the-glorious-flop-of-new-zealand-virus-control/
Just to let people know I'm moving to Substack and Telegram after several readers informed me I've been censored from WordPress Reader feed. The link to my Substack account is https://stuartbramhall.substack.com/. The link to my Telegram channel is https://t.me/themostrevolutionaryact I'll continue to publish on WordPress as long as I'm able, but if my blog suddenly disappears you'll know where to find me.