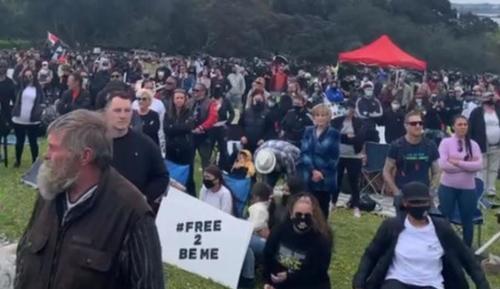 Zero Hedge
As Australia finally begins to scale back some of its least-popular lockdown rules in the face of growth opposition by the public and the business community, anti-lockdown demonstrations in New Zealand are ramping up once again.
A large group of demonstrators gathered at a large park in Auckland on Saturday to protest ongoing COVID lockdown measures in the tiny Antipodean nation of roughly 5MM, many arriving with a procession of motorbikes lead by a local church leader.
The demonstrators, said to number between 1K and 2K, according to local media reports, descended on the Auckland Domain on Saturday to demand an end to the lockdowns.
A caravan of motorcycles led by Brian Tamaki, a vocal anti-lockdown activist who heads the Auckland-based Pentecostal Destiny Church, was among the first on scene at the protests on Saturday, and he captured videos as the procession made its way to the park.
Via https://www.zerohedge.com/covid-19/weve-been-locked-almost-50-days-100s-rally-against-auckland-lockdown-public-opposition