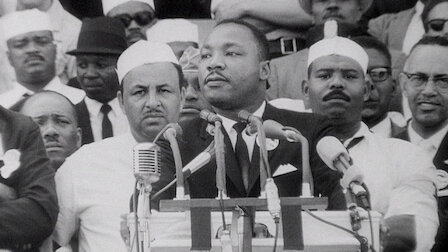 Amend: The Fight for America Episode 3
Netflix (2021)
Film Review
Episode 3 focuses mainly on the 1954 Supreme Court decision in Brown vs The Board of Education, the1960s civil rights movement and President Lyndon Johnson's 1964 Civil Rights Act.
This episode begins by exploring the role of Thurgood Marshall (eventually appointed to the Supreme Court) and other black lawyers in championing a number of "separate but equal" court challenges. Their work would culminate in the 1954 SCOTUS decision that "separate but equal" Black schools violated the 14th Amendment.
The film then looks at the large Black vote that helped John Kennedy win a narrow victory against Richard Nixon in 1960. As with Barack Obama, this was followed by years of backpedaling on civil rights issues. In 1962, Martin Luther King drafted a second Emancipation Proclamation outlawing segregation for Kennedy to sign as an executive order. When the president refused, King launched a nonviolent protest campaign in Birmingham Alabama, a city with the most brutally racist police force in the US. He hoped the crisis and media attention it garnered would force Kennedy's hand.
After writing Kennedy from Birmingham jail, King launched the Children's Crusade, which involved children as young as seven. When newspapers all over the world carried front page photos of children being sprayed with fire hoses and attacked by dogs, Kennedy finally ordered the Alabama National Guard to escort two Black students seeking to register at the University of Alabama.
After Kennedy was assassinated, it fell to Johnson to introduce the 1964 Civil Rights Act. The latter specifically acknowledged (for the first time) the federal government's role in forcing states to uphold the 14th amendment (guaranteeing African Americans equal protection under the law).