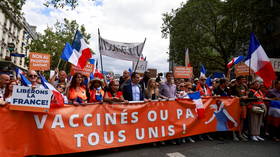 A protest against health passes and other coronavirus-related restrictions in Paris, France, July 31, 2021. © Sarah Meyssonnier/Reuters
RT
Two French unions have called for strikes against the compulsory vaccination of firefighters, healthcare workers, and caregivers. They say the measure violates fundamental rights.
One of the leading French firefighters' unions, FA/SPP-PATS, which boasts 7,000 members, said it will go on strike starting Monday unless changes are made to the recent law on compulsory vaccination of certain employees.
"The obligatory vaccination of firefighters under [the threat] of penalty violates the constitution," the union said in a statement.
"Our union does not oppose vaccination," the organization's spokesperson, Andre Goretti, told BFM TV. "But the conditions, under which it is being imposed on the professional level, with [the threat of] financial and other sanctions – that's where we disagree."
The hospital and caregivers' union, SUD Sante Sociaux, also called for a strike and protests against the measure which it labelled "a new attack on labor law."
According to the legislation, which was approved by parliament late last month, firefighters, medical workers, caregivers, and certain soldiers have until September 15 to get vaccinated or face sanctions. The controversial provision containing the vaccination mandate will be examined by the country's Constitutional Council on Thursday.
The government has been pushing the population to get vaccinated in greater numbers amid the spread of the more contagious Delta variant of the virus.
Starting from August 9, people will be barred from restaurants, cafes, and long-distance transportation unless they have a health pass. The pass is already required for museums, cinemas, and other cultural venues with a capacity of more than 50 people.
These restrictions, along with the vaccination mandate, sparked protests across the country. More than 200,000 people participated in demonstrations across France on Saturday.
A group of uniformed firefighters was seen marching in a protest column in the southern city of Nice on Saturday, where around 6,500 people rallied against the government's restrictive Covid-19 response.
[…]
Via https://www.rt.com/news/531114-france-unions-strike-vaccination/