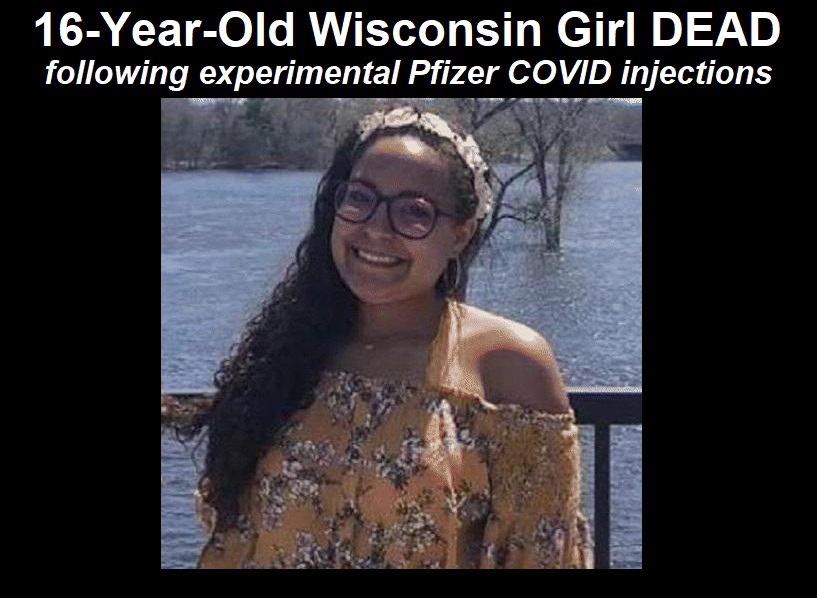 by Brian Shilhavy
Editor, Health Impact News
The 16-year-old Wisconsin girl that was listed in the last week's data dump by the CDC into the VAERS database who died shortly after receiving the second dose of the experimental Pfizer mRNA injection has been identified as Kamrynn Soleil Thomas, of Waunakee, Wisconsin.
Her death was reported to the CDC Vaccine Adverse Event Reporting System twice.
VAERS ID: 1225942: 16-year-old female, Wisconsin. Patient was a 16yr female who received Pfizer vaccine 3/19/21 at vaccine clinic and presented with ongoing CPR to the ED 3/28/21 after cardiac arrest at home. Patient placed on ECMO and imaging revealed bilateral large pulmonary embolism as likely etiology of arrest. Risk factors included oral contraceptive use. Labs have since confirmed absence of Factor V leiden or prothrombin gene mutation. Patient declared dead by neurologic criteria 3/30/21.

VAERS ID: 1243516: 16-year-old female, Wisconsin. Hemodynamic collapse at home. Persistent cardiac arrest requiring ECMO. Event believed secondary to pulmonary embolism. Death by neurologic criteria.
[…]
Via https://healthimpactnews.com/2021/16-year-old-wisconsin-girl-dead-following-2-doses-of-the-experimental-pfizer-covid-injections/