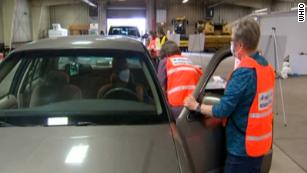 By Christina Maxouris, CNN
When health officials in Ohio's Mercer County opened their first Covid-19 vaccine drive-thru clinic in January, available slots filled up instantly, and more than 500 people were vaccinated in a single day.
Nearly three months later, with plenty of vaccine supply on hand and eligibility open to all residents 16 and older, officials struggled to fill appointments, said Kristy Fryman, the emergency response coordinator and public information officer for the Mercer County Health District. About 264 people received their first dose at the district's clinic earlier this month — roughly half the number of people who were signing up at the start of the rollout.
"It's very concerning," she said. The rural county is home to roughly 41,000 people and earlier in the pandemic had the highest Covid-19 case rate in the state, Fryman said. "We don't want to go backwards," she added.How one of Detroit's churches is tackling vaccine hesitancy to help combat Michigan's Covid-19 surgeDemand has dropped off so much, the health district decided to end mass vaccination clinics for first doses and instead, transition to smaller clinics that require fewer resources and volunteers. But it's not just that hub that's seen a slowing demand: other vaccine providers in the area are reporting the same pattern, Fryman said. Roughly 27% of the county's residents have started their vaccinations, according to Ohio's Covid-19 vaccine dashboard.
"People in rural areas tend to have an attitude of being self-sufficient, especially among the younger population," Fryman said. "We've also heard people are waiting to get the vaccine because they're wanting to know the side effects down the road from it. And then another comment would be that the vaccine is just too new."
In nearby Paulding County, a rural community that's "all villages" and home to less than 19,000 people, the health department's emergency response coordinator has seen a similar trajectory. Just weeks ago, the department would sign up several hundred people on its Covid-19 vaccine wait lists. Now, "we do not have a wait list," Bill Edwards said. Roughly 29% of the county's population have started their Covid-19 vaccination, state data shows.
And it's not just in Ohio. Pharmacies in one part of Louisiana say Covid-19 vaccine demand has "completely fallen off." Georgia officials announced recently they were shutting down a mass vaccination site due to low demand. Tennessee leaders said late last month they were opening eligibility following low numbers of vaccinations in rural areas. Parts of Texas have also seen declining demand.
"We're reaching the point where we're getting to the hard audiences," said Lori Tremmel Freeman, CEO of the National Association of County and City Health Officials (NACCHO). "The ones that either are unsure or on the fence about the vaccine, don't have enough information or are just plain outright… not interested in the vaccine for other reasons."
[…]
Via https://edition.cnn.com/2021/04/18/us/covid-vaccine-slowing-us-demand/index.html