ETIM has been linked with numerous terrorist attacks within Xinjiang itself, as well as providing members who participated alongside Islamists in the Syrian Civil War.
The Free
Lon.rt.com/aubr shared with thanks, illustrations added
FILE PHOTO: A frame from a video purportedly from the Turkistan Islamic Party (TIP), taken from the Internet, shows a man speaks in front of a black banner © Reuters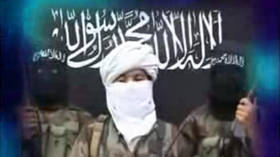 Tom Fowdy is a British writer and analyst of politics and international relations with a primary focus on East Asia.
Mike Pompeo has decided that after 18 years, the violent East Turkistan Islamic Movement should no longer be considered a terrorist group – a move calculated to bring trouble to China's Xinjiang Autonomous Region.
Whilst the world is distracted by the ongoing drama of the US presidential election, Secretary of State Mike Pompeo was at work on Thursday making a very subtle, yet significant move. 
US Drops Xinjiang Islamic Body From Terrorist List
He quietly announced to the United States Federal Register that the US had de-designated the East Turkistan Islamic Movement…
View original post 698 more words