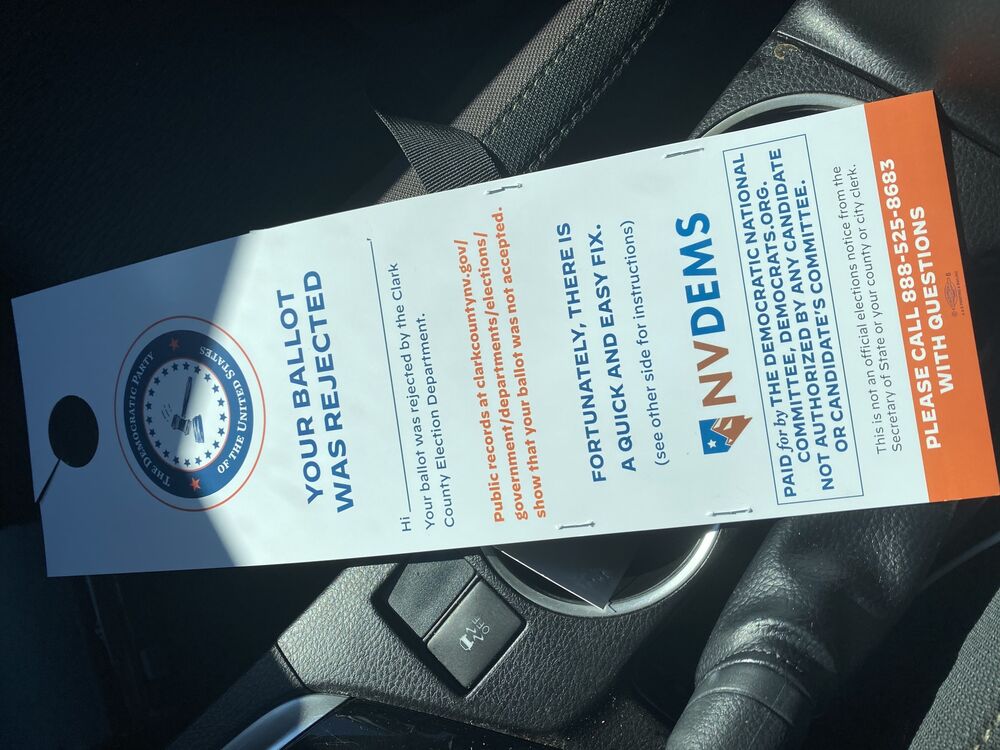 In a presidential race that hinges more than ever on mail-in ballots, voter protection efforts have adapted. 
By
Laura Bliss
Bloomber By Wednesday night in Nevada, a razor-thin margin separated the tallies of the two leading presidential candidates. Yet thousands of mail-in ballots couldn't yet be counted because of missing or mismatched signatures.
In an election with far more mail-in ballots cast than usual, Democrat and Republican operatives are mobilizing to "cure" ballots in battlegrounds where tight races depend on ballot counts still underway. The little-known tool is getting the spotlight this year, as election protection efforts adapt to troubleshooting voting challenges that primarily happened through the mail rather than in-person, where they can be monitored in real time.
Georgia, North Carolina, Arizona and Nevada are among the states where canvassers are knocking on doors, making phone calls and sending texts to voters whose ballots were rejected for signature issues. Curing can also include provisional ballots that were cast without proper identification.
During early voting for the 2020 election, voters whose ballots were rejected for errors were more likely to be Black or Latino, according to a Los Angeles Times analysis. Most states allow voters to "cure" such problems and several give extra time to do so following Election Day, though only 18 have laws that require counties to notify voters of signature issues. Outside of those states, voters can check the status of their ballots using online trackers or by contacting registrars directly.
Campaigns also receive information about rejected ballots — which often come from older and younger voters — through county and state registrars. In Nevada, where Joe Biden retains a lead of less than 8,000 votes ahead of Donald Trump, 3,474 mail ballots were in need of signature cure statewide as of Wednesday night, according to the Secretary of State. Those include about 100 more ballots from registered Democrats than Republicans.
But the scale of ballot cure issues is much larger this year than in past elections because of historic levels of mail-in voting, said Kevin Liao, the communications director for the Biden campaign in Nevada. In Clark County, which includes Las Vegas, Democratic canvassers have been on the ground daily since a few days after early voting began, said Christopher Brancart, a ballot curing volunteer with Nevada Democrats. Keith Schipper, a communications manager for the Trump campaign, says the Nevada GOP has also been sending postcards and making cure calls to their tranche of voters for days. The state allows voters to correct ballots through their county registrar until Nov. 12.