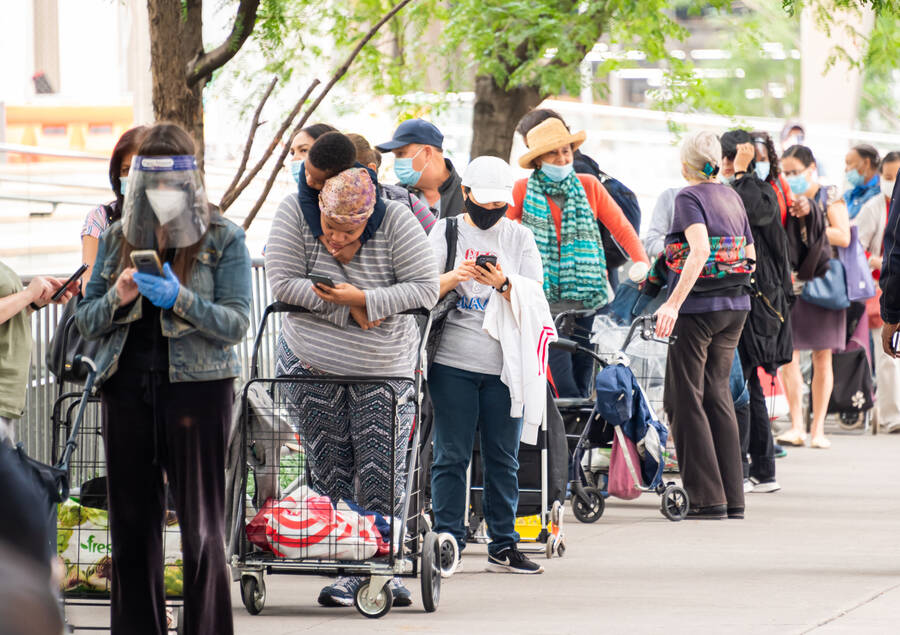 With time running out and Republicans balking at more Covid relief, U.S. workers are facing a future of financial misery.
As mil­lions of U.S. work­ers face unem­ploy­ment, food inse­cu­ri­ty and evic­tion amid the coro­n­avirus pan­dem­ic, the lim­it­ed aid pro­vid­ed by the fed­er­al government's flawed CARES Act from March has long since dried up. 
Last week, fol­low­ing more than six months of stalled nego­ti­a­tions with con­gres­sion­al Democ­rats over a new eco­nom­ic relief pack­age, Pres­i­dent Trump abrupt­ly announced he was halt­ing talks until after the Novem­ber election.
While the pres­i­dent quick­ly back­tracked and is now report­ed­ly con­tin­u­ing to nego­ti­ate, the fed­er­al government's ongo­ing fail­ure to pass a new relief pack­age spells cat­a­stro­phe for a U.S. work­ing class already pushed to the brink by an eco­nom­ic cri­sis seem­ing­ly on par with the Great Depression. 
Here's a break­down of what the con­tin­ued lack of fed­er­al help means for workers:
Sig­nif­i­cant­ly reduced unem­ploy­ment checks
Per­haps the most ben­e­fi­cial part of the CARES Act was the extra $600 a week it pro­vid­ed to work­ers on unem­ploy­ment — a tem­po­rary life­line that the GOP-led Sen­ate allowed to expire on July 31. 
Week­ly unem­ploy­ment ben­e­fits vary wide­ly by state, rang­ing from $44 in Okla­homa to $497 in Wash­ing­ton. The $600 week­ly sup­ple­ment was an across-the-board ben­e­fit that ensured unem­ployed work­ers in any state main­tained a decent income despite los­ing their jobs due to the pandemic.
The Eco­nom­ic Pol­i­cy Insti­tute found that the con­sumer spend­ing gen­er­at­ed by that extra $600 per week sup­port­ed over 5 mil­lion jobs, and that con­tin­u­ing the sup­ple­ment through the mid­dle of next year would have raised U.S. gross domes­tic prod­uct (GDP) by a quar­ter­ly aver­age of 3.7 percent.
After this ben­e­fit expired, rather than agree to Democ­rats' demands to extend it, Pres­i­dent Trump signed an exec­u­tive order slash­ing it by 50 per­cent — allow­ing states to use fed­er­al funds to pro­vide only a $300 week­ly unem­ploy­ment sup­ple­ment. At least sev­en states have already exhaust­ed these funds. 
Mean­while, by los­ing the week­ly $600 boost, unem­ployed work­ers saw their incomes drop by two-thirds, mak­ing it more dif­fi­cult to pay the bills and afford gro­ceries. There are cur­rent­ly 25.5 mil­lion work­ers receiv­ing unem­ploy­ment ben­e­fits. With at least 14 mil­lion more job­less work­ers than job open­ings, mil­lions will be forced to rely on unem­ploy­ment insur­ance for the fore­see­able future — but now with a great­ly reduced check […]
https://inthesetimes.com/article/stimulus-covid-pandemic-gop-checks-relief