The mass closures and stay-at-home orders forced by the coronavirus pandemic—and the Trump regime's inadequate, mismanaged, politicized-against-blue-states response—have thrown at least 36.5 million people out of work since mid-March. Now, Trump and Scalia, catering to their corporate sponsors, want to reopen the businesses again—regardless of whether it's safe to work at them or not.
Journal of People
by Mark Gruenberg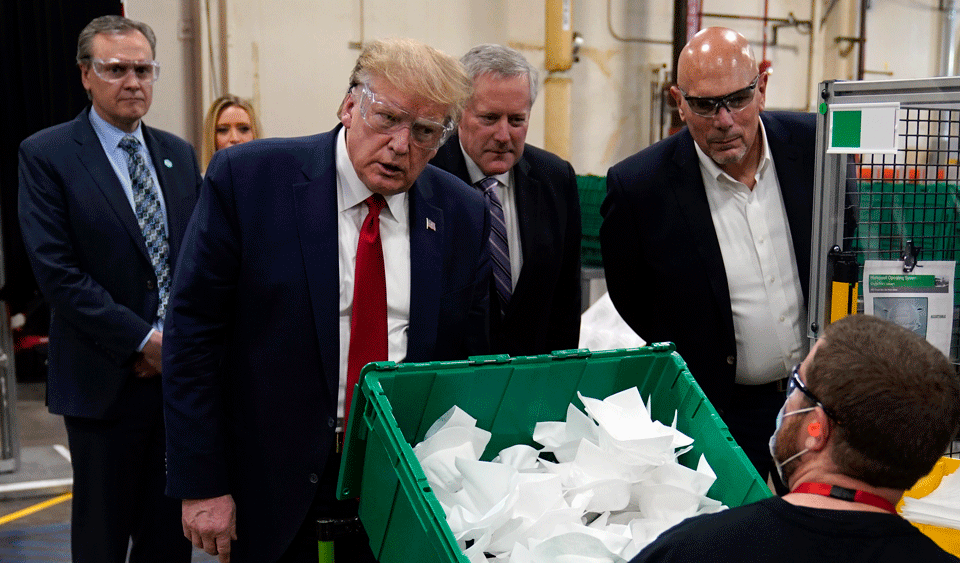 President Donald Trump and Tony Stallings, vice president of integrated supply chain at Honeywell International Inc., right, interrogate a worker about his job during a tour of a Honeywell plant that manufactures personal protective equipment, May 5, 2020, in Phoenix, as Honeywell CEO Darius Adamczyk and White House chief of staff Mark Meadows watch. | Evan Vucci / AP
WASHINGTON—GOP President Donald Trump's Labor Secretary, Eugene Scalia, and his #2 who runs the agency that oversees jobless benefits want employers to report—and states to bar benefits from—workers who fear returning to their old jobs because their employers won't protect them against the coronavirus.
The memo, from John Pallasch, a GOP operative, an advocate for so-called charter schools and a former top Kentucky Employment Department official under right-wing GOP Gov. Matt Bevin, makes clear the intention is to deny jobless benefits to…
View original post 434 more words