Across the world, Covid-19 has triggered community action on a vast scale. It's a powerful riposte to both government and private money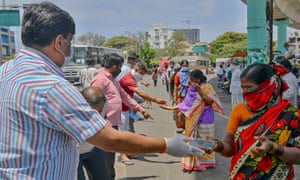 You can watch neoliberalism collapsing in real time. Governments whose mission was to shrink the state, to cut taxes and borrowing and dismantle public services, are discovering that the market forces they fetishised cannot defend us from this crisis. The theory has been tested, and almost everywhere abandoned. It may not be true that there were no atheists in the trenches, but there are no neoliberals in a pandemic.
The shift is even more interesting than it first appears. Power has migrated not just from private money to the state, but from both market and state to another place altogether: the commons. All over the world, communities have mobilised where governments have failed.
In India, young people have self-organised on a massive scale to provide aid packages for "daily wagers": people without savings or stores, who rely entirely on cash flow that has now been cut off. In Wuhan, in China, as soon as public transport was suspended, volunteer drivers created a community fleet, transporting medical workers between their homes and hospitals.
In South Africa, communities in Johannesburg have made survival packs for people in informal settlements: hand sanitiser, toilet paper, bottled water and food. In Cape Town, a local group has GIS mapped all the district's households, surveyed the occupants, and assembled local people with medical expertise, ready to step in if the hospitals are overwhelmed. Another community in the city has built washstands in the train station and is working to turn a pottery studio into a factory making sanitiser.
In the US, HospitalHero connects healthcare workers who don't have time to meet their own needs with people who can offer meals and accommodation. A group called WePals, created by an eight-year-old, sets up virtual play dates for children. A new website, schoolclosures.org, finds teaching, meals and emergency childcare for overstretched parents. A network called Money During Corona texts news of job opportunities to people looking for work […]
Via https://www.theguardian.com/commentisfree/2020/mar/31/virus-neighbours-covid-19