*
*
Secretary of State Tillerson announces US occupation of Iraq is permanent.
Uprootedpalestinians's Blog
Tillerson: US Troops Will Stay in Iraq Even if Asked to Leave
Claims War Authorizations Allow US to Stay in Iraq
Testifying to the Senate Foreign Relations Committee, Secretary of State Rex Tillerson revealed that the US presence in Iraq is so permanent at this point that even if Iraq specifically requests the US withdraw and removes permission for them to be there, the US will remain.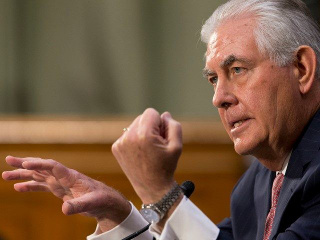 Tillerson addressed the question from Sen. Tom Udall (D-NM), who asked whether the US intended to stay in Iraq uninvited like they are in Syria. Tillerson insisted the 2001 and 2002 Authorizations for Use of Military Force (AUMF) gave the US legal authority to stay.
This appears to be an entirely new position for the US government, as the Bush Administration agreed to withdraw from Iraq after being unable to get Iraqi authorization to stay, and absolute legal immunity for US troops…
View original post 81 more words