*
*
Warren strikes back at Obama's sexist accusations with fact-filled report.
LibertasIntel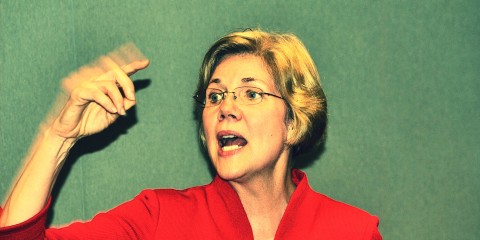 Last week, nasty infighting between Democrats broke out over President Obama's public claim that Sen. Elizabeth Warren's (D-Ma.) criticism of his trade agenda didn't pass "the test of fact and scrutiny." Warren's progressive ally, Sen. Sherrod Brown (D-Ohio) charged that the president was acting in a sexist way, and the White House subsequently demanded an apology from Brown. Warren, meanwhile, remained silent on the matter.
But on Monday her office issued what can only be seen as a de facto response to President Obama's broad criticism of her positions on the Trans-Pacific Partnership (TPP)—a 68-endnote, 15-page report on labor regulations and US-backed free trade agreements, stretching back to the North American Free Trade Agreement (NAFTA).
The paper, called "Broken Promises," tacitly-but-obviously, turns the tables on the White House, suggesting that the President himself spectacularly failed "the test of fact and scrutiny."
"President Obama has repeatedly stated that…
View original post 69 more words